VPN One Click Review (2023)
Last updated on January 7th, 2023
VPN One Click is cheap, speedy, and easy to use. You'd think this UAE-based service has it all to be a viable solution, but its hideous desktop app, unreliable performance, and no support for OpenVPN make it a niche provider I can't recommend.
We might receive compensation from the companies whose products we review. The opinions here are our own.
What we like
Good speeds
Cross-platform
Cheap if you only need it for one device
24/7 live chat
What we don't like
Clueless support
Terrible Windows app
No OpenVPN
No P2P
The free trial is dysfunctional
Unreliable
Single-device subscriptions
No simultaneous connections
Features
VPN One Click has servers in 41 countries, PPTP at 128-bit and L2TP/IPSec 256-bit encryption, and cross-platform apps, still, it's a far cry from what you'd call a serious VPN.
VPN One Click is compatible with Windows desktop, Windows Mobile, iOS, and Android devices.
The Android app is standard and comes with a selection of servers, and zero customization features. All you can do is connect and disconnect the VPN.
But the Windows desktop app is even worse – zero settings, customization, or transparency. I was never able to tell which protocol was used for my connections.
The UI is hideous. You can't adjust the program's window, while its real estate is occupied by a useless map, which isn't even interactive.
While it's not a problem for a large screen, I couldn't navigate the app on my smaller 14-inch laptop because the hamburger icon didn't fit onto the screen at all.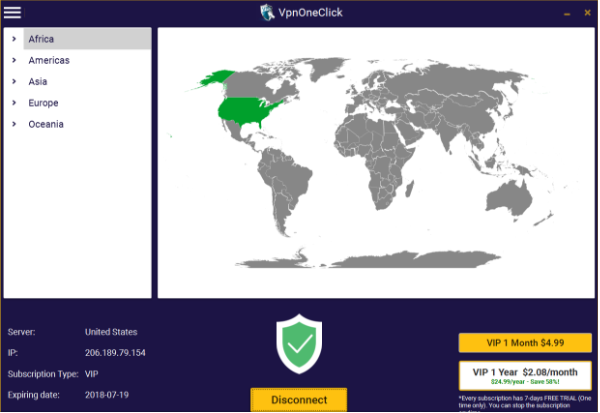 The nested servers list keeps closing itself. Each server is at least two clicks away, and the servers are listed by IP, not by city or region.
If you want to bypass some local sporting even blackout and need to connect to a server in a neighboring state, you're going to poke at servers randomly. Nor can you view the servers' ping time, load, or add favorites.
The current server IP kept reverting to my real IP even when the VPN was still connected – very confusing.
More frustrating is that the VPN client makes zero effort to manage your connections, or warns you when it drops. When I closed the window while the VPN was still connected, the VPN client shut down – without terminating the current connection. When I re-launched the client, it failed to recognize the VPN was connected.

This is a huge problem since you can't trust the app to accurately tell you if you're protected, or not.
VPN One Click has servers in 40+ countries and ships a single-button app that only allows you to connect and disconnect the VPN.
There's no support for OpenVPN, and torrenting isn't allowed. Your torrent client will crash, or the VPN client will exit with an error.
No simultaneous connections are allowed. If anything, you can use the same subscription on your mobile devices, provided they are on the same platform, and you use the same Apple ID for iOS or Google Play ID for Android.
There's no kill switch, firewall, protocol or port options, DNS controls, last-used servers, or Settings. Nada.
Pricing
VPN One Click accepts PayPal, Bitcoin, and payments made via iTunes and Google Play. At first glance, the plans look promising:
VPN One Click for Windows PC costs $4.99/mo or $24.99/year
The Windows Mobile and tablets version costs $1.99/mo, $10.99/6 mo, or $19.99/year
The Mac version is available at $4.99/mo, $14.99/6 mo, and $24.99/year
The Android app and the iOS VPN will set you off $2.99/mo, or $14.99/year each
See what I mean? The pricing is on a per-device basis. The price gets bloated if you need to cover more than one device. And the sheer amount of subscriptions you end up having to manage for just one service is ridiculous.
Free trial
In theory, VPN One Click offers a free trial. Their FAQs suggest there's a free version, too, but their support claims they don't have free servers.
In practice, the free trial is dysfunctional – the apps come "expired" the moment you install them. VPN One Click support tried to persuade me it's because I had their VPN installed at some point in the past. The next moment the agent tells me to re-install the trial version because that should fix my "expiration" issue, at which point our conversation lost any sense.
So I went on to install it on several of my devices. I ended up with six instances of VPN Once Click installed on my Windows and Android devices to no avail. All of them expired from the start.
Support
If you run into the same issue, you need saintly patience to make this VPN work.
Your best bet would be to stalk their 24/7 live chat support. I managed to get my free trial to work after six days of live chat and ticketing back-and-forth with polite but indifferent – and clueless – customer service. Nothing helped until I started huffing and puffing about the sub-zero review I was going to leave on Google Play.
Tests
VPN One Click didn't leak my DNS, WebRTC, or IPv6 details: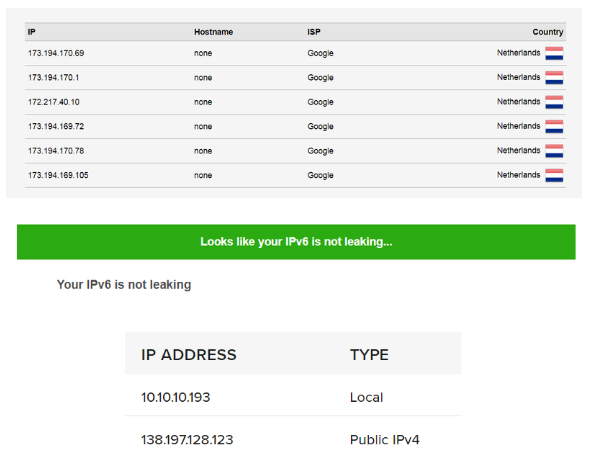 Nor did it have any significant effect on my speeds, which comes as no surprise since the app doesn't support OpenVPN. It's the latter's strong encryption that tends to take a toll on VPN connection speeds. With PPTP, or even IPSec, the speeds are better, but security lags.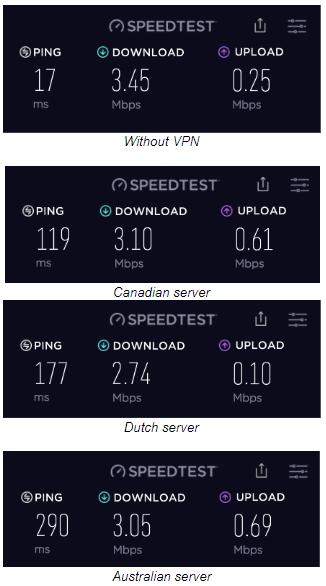 Netflix immediately identified I was using a VPN. I was able to stream BBC iPlayer, although buffering was a persistent problem: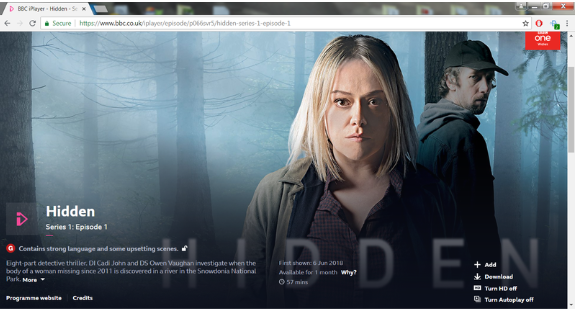 I tried my luck with Australian Channel 9, and made it past the geo-block: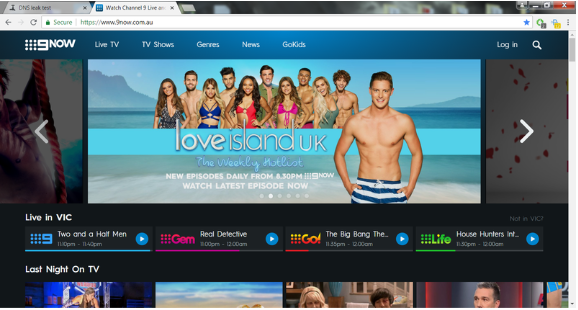 Privacy and security
If there is one thing that's worth praising here is that the service doesn't need your email to subscribe. When you first install the app, it assigns you a unique ID you use to process the payment.
On the other hand, VPN One Click uses the horribly insecure PPTP. Their website claims they also use L2TP/IPSec 256-bit protocol, but you never know which protocol is at play when you connect. So savvy users won't be impressed by the VPN's tech specs.
The parent company Kryptotel is headquartered in the UAE, with offices in Hong Kong and Seychelles. The company claims it can't be compelled to hand over your data to law enforcement since it doesn't collect any logs or personal details and has no international obligations.
The catch here is their Privacy Policy – and FAQs – fail to disclose any details about the VPN technicalities, and sound like a marketing mantra aimed at novice users. Overall, the website does a poor job of convincing skeptical users.
Final thoughts
VPN One Click could be cheap for novice users looking to protect one device. But it lacks features, reliability, usability, and security. There are much better VPNs at affordable rates these days.