Honest VPN reviews.
VPNs are hard to understand. That's why we've reviewed which VPNs actually work and which don't make the cut.
Start here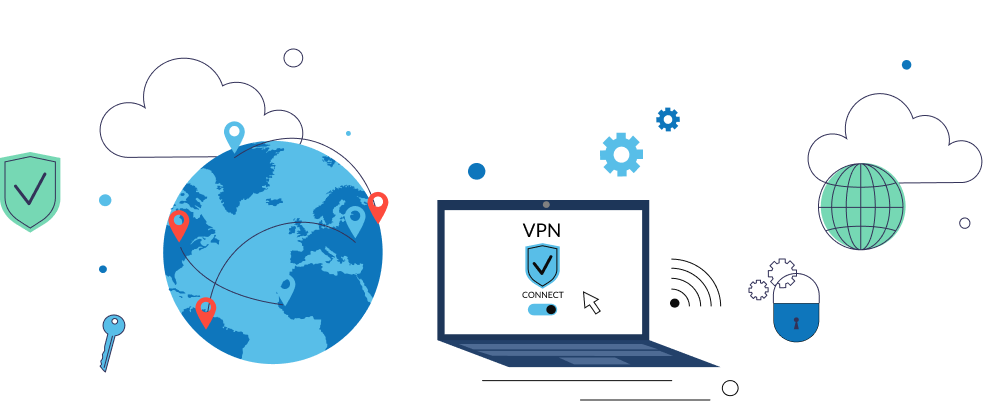 VPN guides and more
Learn about how VPNs work and why they're needed in the first place. Our
guides cover all things internet privacy and cybersecurity. Everything you need to know to stay safe online.
Find the best VPNs
For free
For gaming
For Netflix
For speed
For iPhone
For small business
For torrenting
Recommended VPNs
We thoroughly test and rank each VPN based on its features, pricing, privacy, security, performance and more. These are our favorites. Please note that we might receive compensation from the companies whose products we review but rest assured that the opinions here are our own.
FAQs
What is a VPN used for?
A VPN (virtual private network) is a service that allows users to have a safer, encrypted connection between their device and its destination on the internet. VPNs make it harder for you to be tracked and identified by observers. Some VPNs are free, but the best VPNs tend to cost money.
What doesn't a VPN do?
VPNs do not increase your internet speed, make you completely anonymous online, or protect you from malware. They aren't surefire ways to access streaming content only available in foreign countries. Nor are VPNs any guarantee that your data is private – the VPN company could still sell it.
Are VPNs legal?
In most countries, VPNs are completely legal. However, VPNs are illegal in the following countries: Belarus, Iraq, North Korea, and Turkmenistan. Additionally, their use is restricted, meaning you might need government approval in China, Iran, Oman, Russia, Turkey, and the United Arab Emirates (UAE). If unsure, you should check your nation's laws before using a VPN.
Do VPNs protect against malware?
No, VPNs do not offer any protection against malware. You will still need to practice safe web browsing habits while using a VPN. Additionally, they will not provide any protection from preexisting malware on your computer. Some VPN providers might also offer some antivirus programs in addition to the VPN, but they are separate services provided by the same company.
Should I leave my VPN on all the time?
You do not need to leave your VPN on all the time. If you're not worried about the privacy of your connection, it's fine to turn it off. Disabling your VPN could also help if you want the fastest possible connection or a lower ping. That said, if you want to leave your VPN on all the time, there's no problem doing so.
Can I be tracked if I use a VPN?
Using a VPN makes it harder for other parties to track you, but they might still be able to do so. You should note that if you log into a website with your user account, they'll know it's you. Additionally, websites now use 'browser fingerprinting' to identify specific devices. This is when the website looks at the unique settings you have configured to track your behavior.
Will a VPN increase my internet speed?
A VPN will not speed up your internet connection. Your internet connection speed is determined by your ISP or Wi-Fi connection strength. When you use a VPN service, you'll either be limited to that speed or the speed of the VPN, whichever is slower. VPNs that advertise fast speeds will only be worth it if your base internet speed is at least as fast as the VPN's speed.
Can/should I use a VPN on my phone?
You can use a VPN on your phone. If you frequently connect to public Wi-Fi networks, you should use a VPN to prevent other people from snooping on you. VPNs can also help if you do not trust your cellular provider with your data. You should know that using a VPN will burn through your data more quickly than if you were to go without one.
How safe are VPNs?
In general, VPNs are safe to use and help provide an additional layer of privacy to your internet traffic. However, you should know that certain VPN companies can keep logs containing your data which can potentially be sold or given to the government. There's also the risk that the VPN provider can suffer a data breach and expose your data.
Should I use a VPN with public Wi-Fi?
Using a VPN while on a public Wi-Fi network is one of the best use cases for a VPN. Since other people connected to the public Wi-Fi can potentially look at data meant for you, the encryption a VPN provides ensures that only you can view it. If you frequent airports or coffee shops, you should get a VPN.
Should I use a VPN when streaming?
You generally do not need to use a VPN when streaming. Some streaming services will not allow you to stream when connected to a VPN. That's because VPNs were used to skirt around the region-locking attached to some content, allowing users to watch shows only available in select foreign countries.
What is a VPN provider?
A VPN provider is a company that runs the VPN service. This is who you'll have an account with when you access the VPN and who you'll pay if it's a premium service. There are many different VPN providers out there. Some are free, but it's common for the best services to charge a monthly or annual fee.
Are free VPNs secure?
Probably not. Free VPNs need to make money, and in this case, the VPN provider is likely selling your data. Free VPNs can still help protect you on public Wi-Fi networks, but you run a much higher risk of your data being given away by the company running the VPN. If you're committed to your privacy, it's probably worth it to research and pay for a reputable service.
Are more VPN servers better?
More VPN servers are better so long as there is a good balance between quality and quantity. Having a lot of servers spread throughout the world is good to ensure users can access content with a low ping. Each server should have enough throughput to ensure that users do not have internet speed slowdowns. Having more servers also might allow users to access content that blocks VPNs before they wise up to every VPN server.
What is AES-256?
AES-256 (Advanced Encryption Standard) is a type of encryption that uses a 256-bit key to keep your data secure between its sender and your device. If someone is trying to look at this data without the key, they won't be able to make anything out. AES-256 is more secure than AES-128 and AES-192, making it one of the most trusted encryption algorithms.
What is IKEv2?
IKEv2 (Internet Key Exchange protocol version 2) is the method some VPNs use to create encryption keys. It offers advantages to other protocols like OpenVPN, such as faster speeds, better stability, and an auto-reconnect feature. IKEv2 was first established in 2005 but has been updated multiple times since then.
What is L2TP?
L2TP (Layer 2 Tunneling Protocol) is a method used by some VPNs to tunnel data across networks. Basically, it's the method used to bundle up your data and send it elsewhere. Another layer of encryption accompanies it to ensure the data is protected. L2TP was created in 2000 and was inspired by L2F (Layer 2 Forwarding Protocol) and PPTP (Point-to-Point Tunneling Protocol).
What do no logs mean?
No logs mean the VPN company does not keep records of the traffic on their VPN servers. The company cannot tell who went where or what data they exchanged. So, if a VPN does not keep any logs you should have more privacy. However, there's no guarantee the VPN provider is sticking to its word. You have no way to know if you're being logged.
What is a VPN protocol?
A VPN protocol is a method used to route data through a connection. Different protocols come with unique advantages and disadvantages. Speed, encryption, and support can vary depending on the protocol. Some standard protocols are OpenVPN, IKEv2, and L2TP.
What is a VPN kill switch?
A VPN kill switch is a feature that stops your device from connecting to the internet if the connection to the VPN is lost. That way, there's no chance your actual IP address could be leaked if there are VPN connectivity problems. This feature is also helpful to ensure that your device does not connect to the internet without a VPN connection after restarts, updates, and other unexpected events.