Rocket VPN Review (2023)
Last updated on January 7th, 2023
The app is free, lightweight, and lets you connect to servers in 12 countries across the globe. In all its simplicity, accessibility, and ease of use, Rocket VPN doesn't meet the standards of a privacy-focused product, with appalling logging policies, an ad-based monetizing model, and an overall lack of transparency.
We might receive compensation from the companies whose products we review. The opinions here are our own.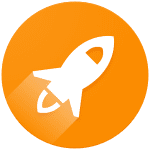 Get Rocket VPN
What we like
Free
Inexpensive paid plans
Unblocks BBC iPlayer
Has a built-in browser
Up to five simultaneous connections in paid plans
What we don't like
Connection and usage logs
Only Android and iOS
Ads
Collects communications that go through its app, including information on your recipients
Does not disclose information about protocols and encryption used
Advertises anonymity
Discloses your data to third parties and law enforcement
Performance is barely enough for basic browsing
Features
Rocket VPN is a mobile-only VPN from Liquidum, a company based in Ireland with offices in Canada. It's powered by HotSpot Shield, which has been recently accused of spying on its users.
You can install Rocket VPN on Android 4.0.3 and up and iOS 9.0 and later (phones, tablets, and iPod touch including).
The interface looks a little dated sporting Google's Material design, of which I was never a fan. It's extremely easy to use, however, as there are zero settings except for the toggle that sets your VPN to auto-connect when you launch the app.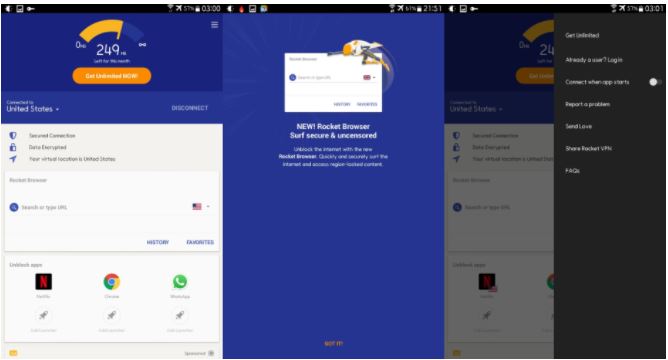 The main screen gives you access to the list of locations, a Connect button, and shows if your data is encrypted. There is no indication as to which type of encryption is used or protocol for that matter. The app description on Google Play and iTunes, as well as the developers' website, just say "encryption" without giving out any details, advertising anonymity at the same time.
Not only is this misleading but also harmful, as inexperienced users will trust the ad slogans. Remember – a VPN does not make you anonymous. It can give you better privacy, but only if the provider is trustworthy. Rocket VPN is not – see the Privacy and Security section below.
There is no chat support. You can only email them or go through bare-bones FAQs.
Rocket VPN has no settings but has a built-in browser. It might be a viable solution for general browsing, but it doesn't display media content correctly. So when it came to my streaming tests, I had to switch to Chrome.
The app has a nifty app dashboard, where you can add apps and set up which location you want to spoof when launching each app. For instance, you can add Netflix and configure Rocket VPN always to launch it from a US location. The setup is effortless – choose an app, a location, and you're all set.
Other than that, there's nothing to mention – no kill switch, encryption or protocols toggles.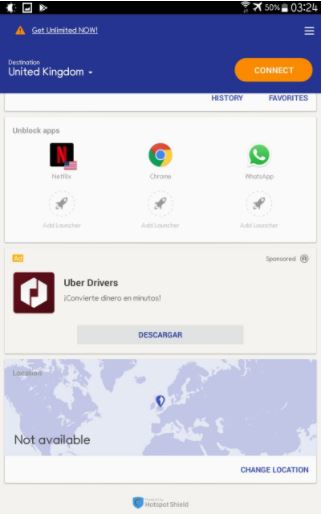 Pricing
Rocket VPN comes as a free app, so anyone can download it from Google Play Store or iTunes. Once you install the app, your account is created automatically based on your app store account credentials, and 250 MB is added – that's your monthly quota of free data.
The free account grants you access to servers in 12 countries – the US, the UK, Singapore, Australia, Japan, Ireland, Ukraine, and five EU countries.
When you run out of free data, you can upgrade to paid plans. This is where it gets a little confusing because, on Android, I'm able to upgrade to one of the three plans – $3.99 per month, $8.99 for three months, and $23.75 for the whole year. Based on scarce FAQs, In-App Purchase (IAP) breakdown, and bits and pieces of information from Google Play and Apple iTunes, I'm assuming there must be an option to buy extra data for $0.99 and up to $35.99.
Paid subscribers get access to speedier servers in the same locations and the ability to use the same Rocket VPN license on up to five devices (Android and iOS).
Unfortunately, the developer is all but transparent about pricing, and a detailed outline of all IAPs and plans is nowhere to be found.
Understandably, you can only pay for your Rocket VPN's IAP via Google Play and Apple iTunes store. Their refund policy is hard to understand since it covers all of their products, games included and dwells more on the purchase of in-game coins rather than VPN plans.
Tests
I tested Rocket VPN for speed and security leaks. While my default speed wasn't stellar as such, Rocket VPN didn't affect my speeds in any remarkable way. Here is my result measured by the Meteor app before connecting to a VPN:

When connected to a US server:

And when connected to a UK server:

Rocket VPN did not leak my DNS, WebRTC, or IPv6: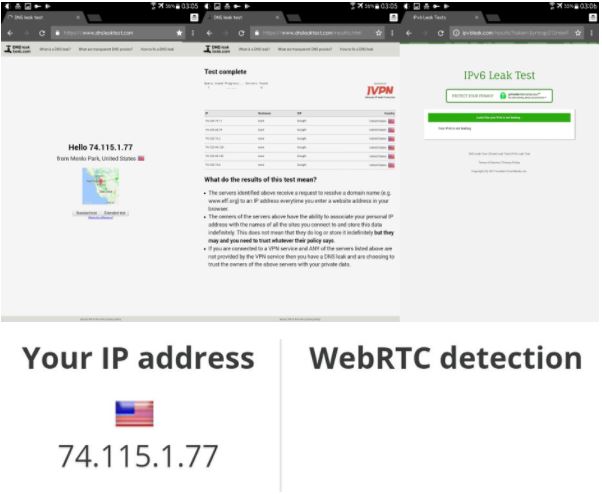 I was able to stream BBC iPlayer, although with a good deal of buffering, which is understandable due to my speed:
But I couldn't get Netflix to work when I connected to a VPN – the app flat out refused to connect. I was able to access Netflix from a browser, but they have this nasty mobile browser gate that prevents you from streaming from a mobile browser, and forces you back to their mobile app. Even though I set up my browser to request a desktop version of their website, I was still pushed to Netflix mobile app, which refused to connect.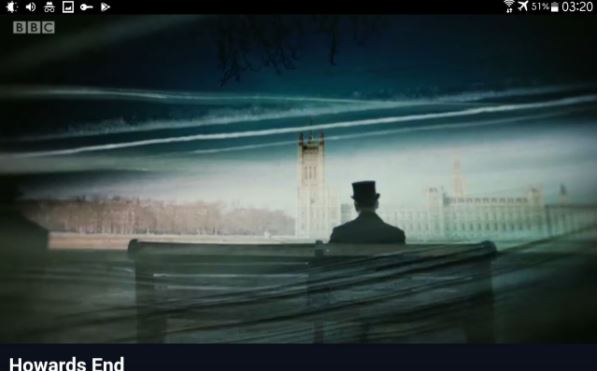 Privacy and security
If you're still on the fence about Rocket VPN, let me put the last nails in its coffin. It's adware; it logs your activities head to toe, and it offers zero explanation as to which type of encryption or protocol it's using.
Their Privacy Policy is a long and sad read – they log things you do, but even more troubling, they appear to store the information you send to other people when using their app. For instance, if you use Skype or WhatsApp when connected to a VPN, you're communicating with your contacts through a VPN, so this clause could mean the provider is profiling not only you but your recipients, too.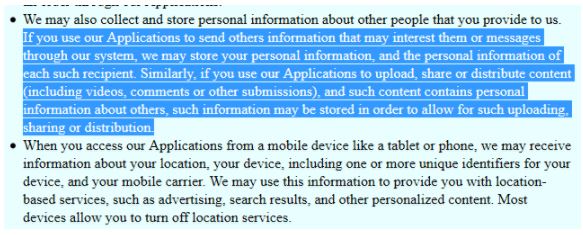 That is way too intrusive because you might have agreed to their ToS and Privacy Policy, whether you understand the implications or not. But your friends haven't agreed, which means Rocket VPN is collecting data on people who are not their users, and without their consent.
Aside from that, the provider logs your metadata and usage data, as well as your location, your device unique identifiers, and information about your carriers.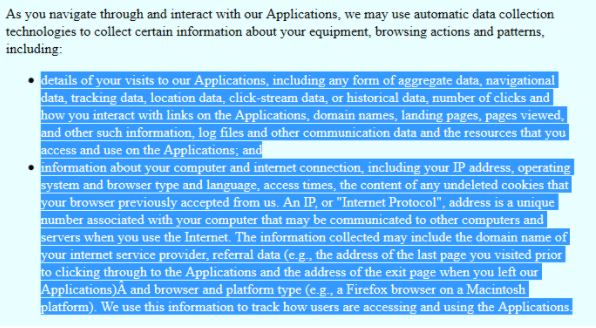 They use cookies, web beacons, and whatnot. I'm not surprised Rocket VPN has been labeled as "malicious and intrusive" by security researchers and marked as malware by VirusTotal.
Final thoughts
Rocket VPN is precisely the type of VPN that uses typical "encryption and anonymity" boilerplate and free data to lure unsuspecting users into installing their app, which is very capable spyware but a crappy VPN. Avoid like the plague.