BTGuard Review (2023)
Last updated on January 7th, 2023
BTGuard had its ups and downs when consumers complained of poor performance. As of this writing, BTGuard is still a niche provider with a limited set of three server locations – in Canada, Singapore, and the Netherlands. It supports PPTP and OpenVPN and offers decent speeds.
We might receive compensation from the companies whose products we review. The opinions here are our own.

Get BTGuard
What we like
Good speeds
Torrent-friendly
What we don't like
Expensive
No customer support
No streaming (Netflix, BBC iPlayer)
Servers only in three locations (Singapore, Canada, the Netherlands)
Undisclosed connection logs policy
No native client
No trial plan
No refunds
Features
BTGuard has been around for over ten years. Founded in 2008 in Canada, BTGuard's operator Netcrawled LLC has moved under the US jurisdiction since then.
You can configure BTGuard's VPN that relies on PPTP on Windows, Mac, Ubuntu, iOS, Android, routers, and Tomato devices.
If you prefer OpenVPN and 256-bit encryption, you can install the open-source OpenVPN program and add BTGuard's configuration files. The website offers detailed installation and setup guides. This option should work on Windows, Mac, Linux, Ubuntu, Android, routers, ChromeOS, iOS, and Tomato devices respectively.

Be advised not to confuse the installation and setup guides for Windows XP and Windows 7, 8, 10 because the config files differ and you won't be able to connect on a Win 7/ 8/ 10 machine with the config files downloaded from the guide for Win XP.
If you are familiar with OpenVPN, you won't have problems setting up BTGuard. Otherwise, you might need to spend a little more time following the instructions carefully, but if I could do it, so can you.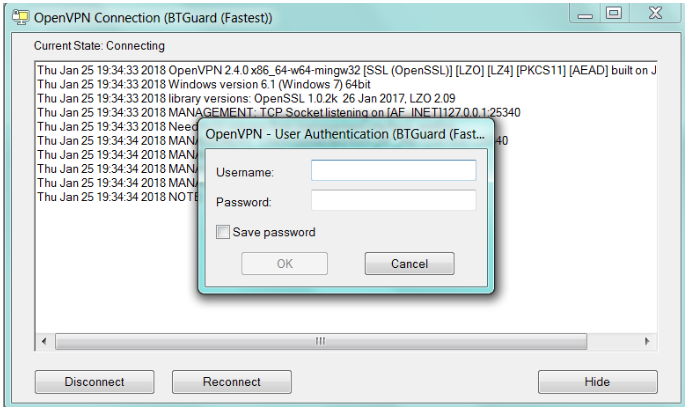 OpenVPN has fairly basic settings, and connecting/disconnecting is not very convenient from the usability perspective. You have to submit your username/password for each server separately the first time you connect. And if something doesn't work, you need to check the log files. If all of the above sounds like rocket science, you're better off with a more user-friendly solution.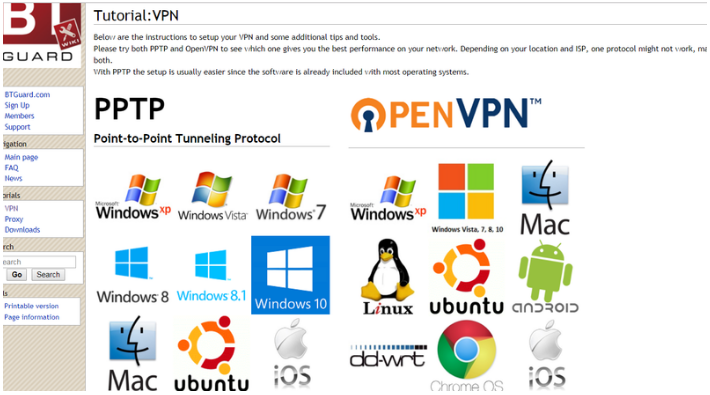 The provider's website looks outdated. The support area, where you can find the FAQs and guides, was last updated in 2015.
Some things are downright counter-intuitive. If you visit their wiki page, for example, you will find two login links – one in the top right corner and another listed as Members to the left. While I was able to log in with my credentials using the Members link, the login link on the right failed to recognize my credentials. You have to first log into the Members are and then be able to access your other BTGuard wiki/support ticketing account. Your user dashboard is spartan – you can change your password and nothing more.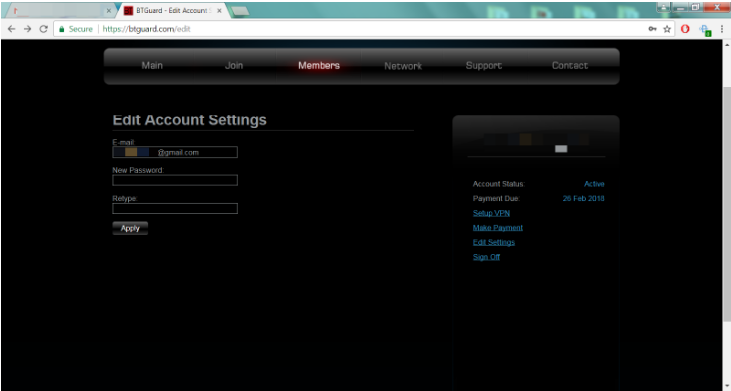 Except for unrestricted freedom for P2P torrenting, OpenVPN, and 256-bit encryption, BTGuard offers no perks. No advanced customization, fancy software, or toggles for a kill switch and firewall. It is as barebones a service as they can get.
Pricing
BTGuard offers two paid plans. The BTGuard VPN kicks in at $9.95 per month, $27.95 per three months, $49.95 per six months, and $89.95 per year. The VPN service supports PPTP and OpenVPN, 256-bit encryption, unlimited download speeds, and 10Gbit servers in the Netherlands, Canada, and Singapore. Even though there is no native software, you can configure your Windows, Mac, and Linux devices manually.
BTGuard Proxy kicks in at $6.95 a month, $19.95 per three months, $34.95 per six months, and $59.95 per year. The plan comes with a customized BitTorrent client set up to run through the BTGuard proxy. You can also set up your uTorrent, BitTorrent, and Vuze clients to use its proxy.
The provider accepts payments via PayPal and credit cards. Bitcoin payments should be accepted, according to the website, but I heard it through the grapevine the company stopped accepting Bitcoin payments a while ago.
Two things about BTGuard are an immediate turnoff – there is no trial on offer, not even a paid trial, and there is a zero refund policy. So if you are unhappy with the service, do not count on a money-back guarantee.
The draconian conditions make BTGuard come across as a very inaccessible and condescending service. Multiply that impression by the lack of live support, and BTGuard seems unreasonably overpriced.
Tests
BTGuard's speed tests showed decent speeds on all three server locations. My initial speed was okay:

It dropped in the Canadian connection:

The Netherlands connection:

and the Singaporean connection:
Nonetheless, these speeds are above-average for 256-bit encrypted OpenVPN connections. This is certainly not the speediest VPN I've tested, but it's nowhere near biting the dust, either.

As for my security tests, BTGuard did not leak my DNS:

but its Singaporean servers have been effectively blocked by my favorite WebRTC test site, so I had to use another service to check for WebRTC leaks: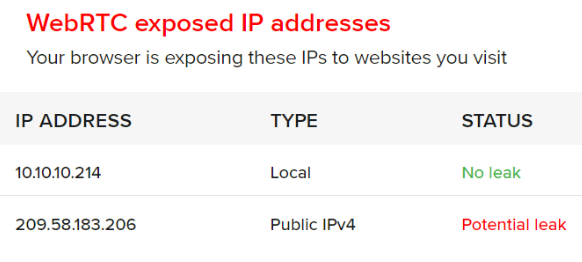 No IPv6 leaks were detected:

Unfortunately, there is not much to discuss here. Offering servers in the Netherlands, Singapore, and Canada, BTGuard VPN unblocks pretty much one of the streaming services I usually test. So forget about Netflix US, BBC iPlayer, HBO US, Channel 9, or whatever streaming service you prefer.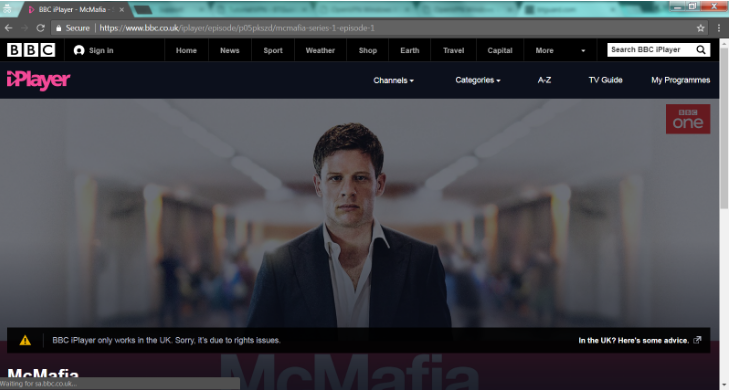 Privacy and security
I always prefer short legal documents to verbose and mind-numbing legalese, but BTGuard took it too far with an impossibly short and vague Privacy Policy.

The company advertises a strict no-logs policy, but their Privacy Policy states they collect your personal information. And then it fails to explain which personal information it collects. And then it mentions the purposes for which it collects your information but fails to identify what these purposes are. The wording is too vague and doesn't instill trust since it fails to list everything it allows the company to do. Also, the Privacy Policy was last updated in 2011.
The company's Terms of Service are tricky to find – you only get the link at the checkout. But other than the acceptable use policy, the document does not mention anything that's of value – not even the company's US jurisdiction. Apparently, the company doesn't like to disclose it, especially since its target audience consists of torrenters mainly. But you should know that neither Canadian nor US jurisdiction is good for anyone torrenting copyrighted content.
The company states it keeps no logs of your IP address or usage, but there is no mention of connection data logs (connection times, bandwidth used).
On the security front, OpenVPN and 256-bit encryption sound solid while PPTP is not considered safe.
Final thoughts
BTGuard is a weak proposition with above average prices, no customer support, native client, trial plan, refund, or streaming. It only offers three server locations for torrenting. But even if you specifically need a P2P-friendly VPN, BTGuard fails to impress with its shady Privacy Policy. Its speeds are good, but I can't recommend it due to privacy concerns.