Price

Speed

Features

Customer Service

Privacy
Summary
Express VPN offers anonymous and secure web browsing in an affordable, clean, and user-friendly package.
Pros
Easy to use
Anonymity
Access to blocked content
High level encryption
Supports OpenVPN
Geospoofing
Cons
Can affect bandwidth
Based in a a territory/commonwealth of a Five Eyes/Enemy of the Internet Country
Meh
On occasion, the Mac interface would require multiple clicks to close or minimize the window. Annoying, but not a deal-breaker.
Who is ExpressVPN?
Express VPN was Founded in 2009 and is an award winning VPN service provider based in the British Virgin Islands. They operate over 1,000 servers in 136 cities in 87 different countries and continue adding to that list. They are advocates for internet privacy, and provide financial support to Electronic Frontier Foundation, The Internet Defense League, Fight for the Future, and Access. They have apps for Windows, Mac, iOs, Linux, Android, and more, with best-in-class security and encryption so users, worldwide, can browse the web in anonymity.
ExpressVPN Pricing and Available Plans
Express VPN offers three different service plan options. You can purchase a 1 month plan for $12.95, billed monthly; a 6 month plan for $9.99 per month, billed as $59.95 every 6 months; or a 12 month plan, their most popular option, at $8.32 per month, billed as $99.95 annually. You can pay with credit card, PayPal, Bitcoin, or Paymentwall and all three plan options include a "no-hassle" 30-day money-back guarantee.
How to Use ExpressVPN?
Express VPN claims that the five top benefits of its service are to stay private, save money, defeat censorship, encrypt everything, and extend your coverage.Those are basically the same claims made by VPNs across the board. They offer VPN split tunneling so you can choose to route some of your device traffic through a VPN while letting the remainder access the internet directly. They offer 24/7 live tech support, and apps for every device.
Express VPN also provides Smart DNS which allows you to use geospoofing to resolve your DNS requests at the location of your choice. Smart DNS will function on any internet-ready device, regardless of whether it can run VPN software. You can anonymize your browsing and "spoof" your location on any streaming media player, smart TV, game console, or e-reader, and access content that may have been denied to you based on your physical location.
Tests
In a speedtest with and without Express VPN and the differences were within 3 Mbps– relatively insignificant if you're on a high-speed connection but, on slower speeds (as below), that could affect your ability to work, stream content, etc.
Without VPN:
With VPN:

DNS Leak Test
Every time you manually configure a VPN connection, you run a higher risk of a DNS leak. Using an app like Express VPN can protect you from that. Express VPN performed well across multiple leak tests, demonstrating that they do, in fact, deliver secure connections.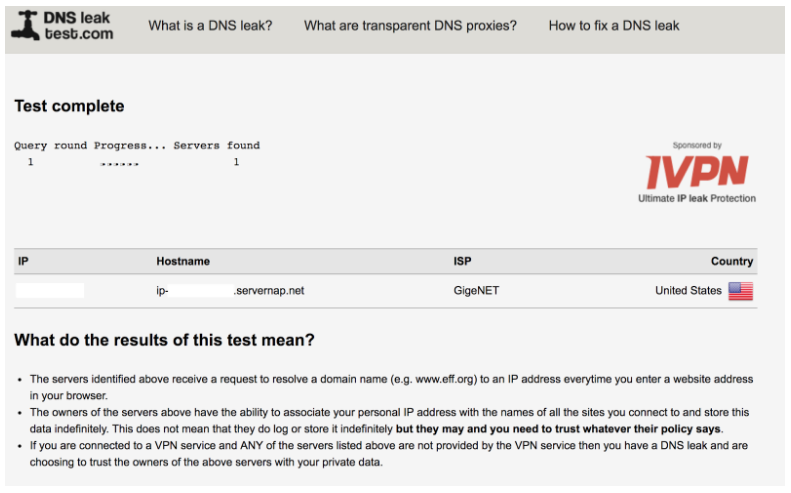 WebRTC Test

IPV6 Test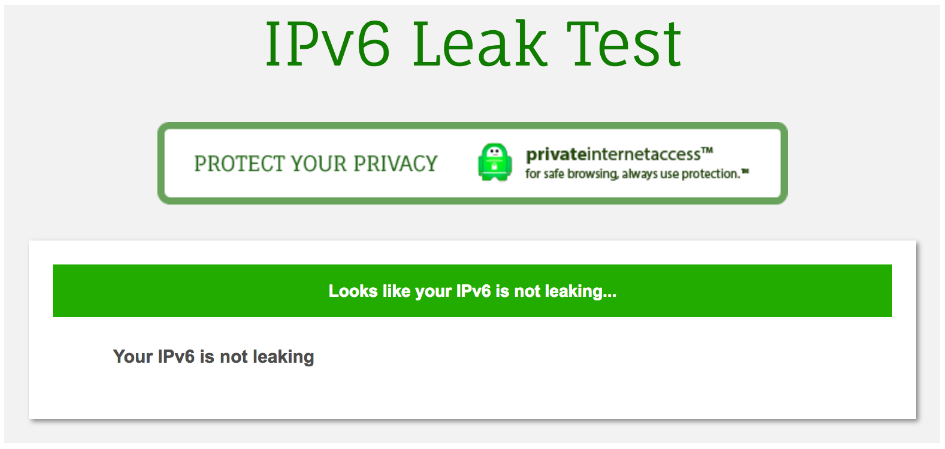 Testing on Mobile
The experience on the Android mobile app was, more or less, the same as the desktop version. The app weighs in at less than 12 MB so you won't take a hit to your mobile memory. You see a similar connection screen, and location interface and choices: Smart Location or Choose Location. You can open the menu in the upper left corner to access settings, your account, Help & Support, or information on receiving 30 days free, for you and a friend, via Express VPN's referral program. Once you tap the power button, the familiar green shield will appear indicating the VPN is active.
An icon set appears at the top of the mobile screen when the VPN is in use.

Clicking the Express VPN logo will open the app. Clicking the key icon will open a screen that is meant to allow you to disconnect, cancel, or configure.
I was using Android 6.0.1 and disconnect and cancel worked as expected, but configure only produced the message below.

Express VPN worked fine over a mobile connection and didn't seem to cause any issues at all with speed or performance.
Privacy

Privacy is becoming an increasingly valuable asset and it's nice to know you can protect yourself from prying eyes. Express VPN will scramble and encrypt your internet traffic so your ISP can't read it or log your activity. Most major VPN protocols are supported, including OpenVPN. Express VPN also allows you to choose your server location or use their smart location option to locate the server nearest you. Express VPN does not log traffic, DNS requests, or IP addresses, but they do log timestamps and bandwidth. Since they're based in the British Virgin Islands, they are in a territory/commonwealth of a Five Eyes/Enemy of the Internet Country, so that's something to consider as well.
You can pay them with Bitcoin if you wish to create a completely anonymous account.
I was unable to find any data breaches that had occurred at Express VPN, however, in 2016 they made some interesting, and almost prescient, predictions regarding security elsewhere: https://www.expressvpn.com/blog/2016-predictions-follow-up/
Security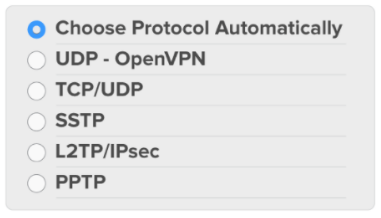 Express VPN supports multiple protocols: OpenVPN, TCP, L2TP and SSTP. They use SSL and have an A+ rating. They secure data using a zero-logging policy for traffic data, DNS queries, or any identifying data. Express VPN also uses AES-256, 256-bit military-grade encryption, the most trusted encryption standard in the world. They employ IP address masking so you can obscure your true location. Every Express VPN server has its own private, encrypted DNS. You can also use Tor to browse their hidden .onion site.
Website Blocking
One of the nice advantages to using a VPN is that you can access content that you may not be able to access due to geographical restrictions–similar to region-restricted DVDs. Using Express VPN and a server in Chicago, I accessed Netflix and had no trouble browsing or streaming content.
Next, I switched to a server in the UK and attempted to run BBC iPlayer. That also worked without any problems. Logging in from the USA would usually yield the error you see in the second image here.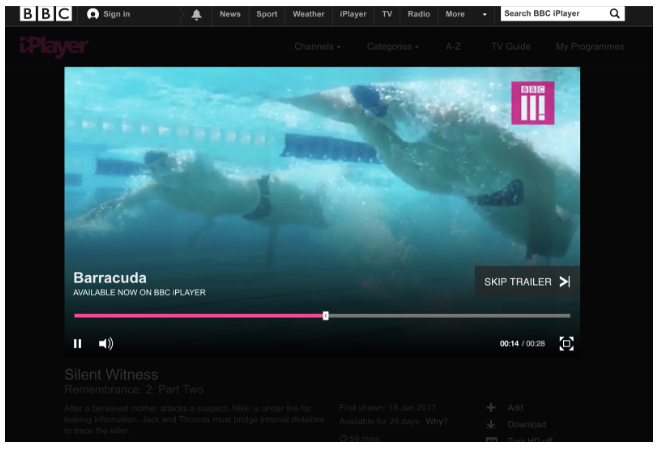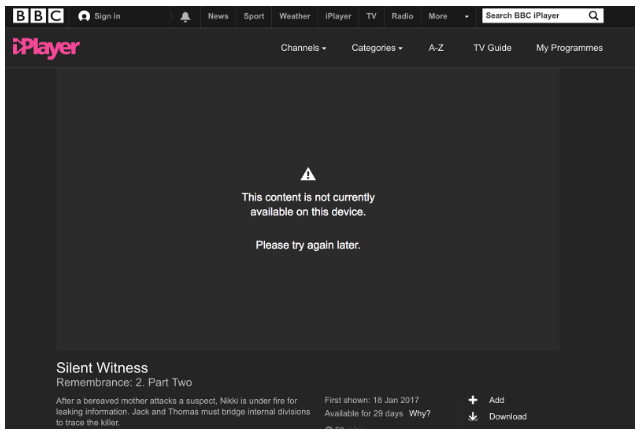 ExpressVPN Final Thoughts
Overall, Express VPN seems like a solid choice if you're looking for a good solution to amping up your online privacy. Customer service was fast and friendly using their Live Chat option; they answered all questions and even offered to help me set up the software. The software is easy to use in both desktop and mobile versions despite some minor bugs. The service is competitively priced when you purchase the 12 month plan; at 30 days for free service for you and a friend, their referral program seems generous. Thanks to their 30-day money-back guarantee, you really run no risk if you just want to try out their service and cancelling was, indeed, "hassle-free".