OverPlay VPN Review – 2022
Last updated on September 21st, 2022
OverPlay is now StrongVPN. Check out our review of StrongVPN here.
OverPlay is a UK-based VPN and Smart DNS provider with 650+ servers in 70 locations across 50 countries.
Why Choose OverPlay
OverPlay offers unlimited server switching and OpenVPN protocol for secure connections. Their SmartDNS is slated towards streaming geo-restricted channels, and their list of supported services and websites is impressive.
Best VPN for
Netflix, Hulu, and streaming online
Torrenting and downloading
Security and privacy
Works on
Mac
Windows
Android
IOS
Linux
Routers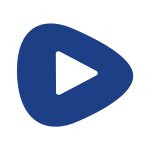 Pros:
Unblocks BBC iPlayer and Netflix US
Good security
Excellent server coverage
No logs
Kill switch
Auto-reconnect
Cons:
Only 3 simultaneous connections
No free or paid trial
No Bitcoin accepted
Awkward setup
Geared towards advanced users
Support is only available via email
No native mobile client
No OpenVPN for mobile – only PPTP or L2TP
Pricing and Plans
OverPlay offers two packages – a SmrtDNS-only plan worth $4.95 per month or $49.95 a year; and a SmartDNS + VPN package that kicks in at $9.95 per month, or $99.95 per year. The SmartDNS plan is mostly for streaming and bypassing geo-blocks while the VPN plan provides encryption for improved privacy.
That's a higher price than most providers offer. There's no free or paid trial, which is also a disappointment that is somewhat remedied by a 5-day money-back guarantee.Uninspiring is their list of accepted payment methods – PayPal and credit cards.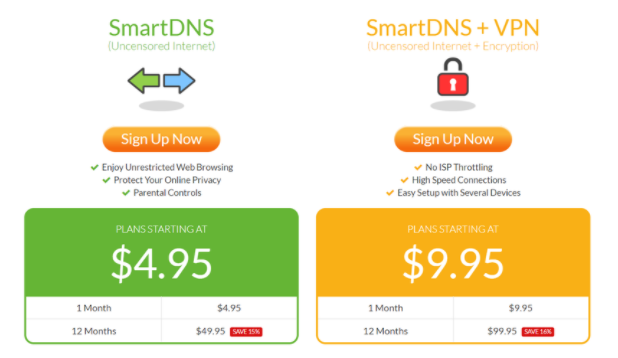 Features
OverPlay's native client is available for Windows and Mac devices. If you use the official OpenVPN software, you can also set it up on Linux, routers, gaming consoles, and smart TVs. There's no OpenVPN setup for mobile devices – only instructions for manual setup of PPTP and L2TP connections.
I tried the OpenVPN setup for Windows and the native desktop client. The service that relies on the OpenVPN software is slated towards the techies. I'm familiar with OpenVPN, and importing config files is not a hassle when the provider sets it up right. However, OverPlay's approach isn't my favorite. The configuration files come in a compressed folder – a total of 270+ servers with names like BOM, BEG, and BFS.
Intuitively, I suspected ATL is for Atlanta and LON is for London. But with nearly three hundred files, hand-picking a few dozen servers that I wanted to test was brain-numbing.Another ridiculous issue that popped up was that my username had to bundle @overplay at the end. Considering my username was my email, the OpenVPN login turned into [email protected]@overplay. Note that you have to enter email/password the first time you connect – for each server.All things considered, this is not the simplest of implementations I've seen for OpenVPN. @overplay at the end of a username and the poorly named config files just seem like a usability flaw nobody cared to fix.Moving on to the OverPlay's proprietary desktop app, things weren't smooth either. The initial installation of OverPlay app was long and tedious. It came bundled with Microsoft Visual C++ and Microsoft .NET Framework. I don't mind those, but the desktop client didn't install properly. When I launched it and tried connecting to a server – any server – it blocked my connection altogether.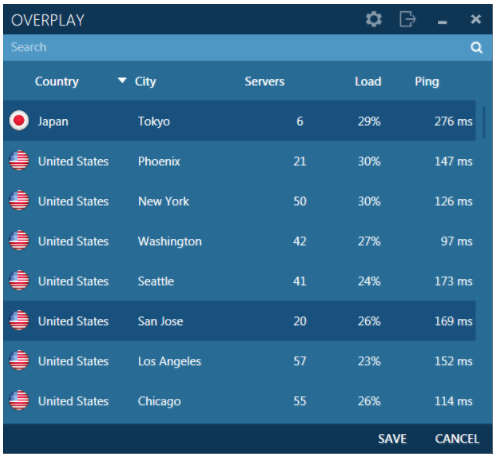 Their support is only available via email so I couldn't get a quick tip on what could be causing the issue. Further investigation brought up this article on all the things that could go wrong. A total of 11 possible reasons why a VPN client is failing seems like overkill for an average user to digest.So, I went with the simplest solution – uninstall it, reboot everything and install it again. That solved the problem, whatever was
causing it.
When I finally got it to work, OverPlay client was sleek and intuitive but far from perfect. The gear icon takes you to the General Settings, Connection, Logs, Licenses, and About tabs. Switching between those tabs is riddled with freezes. Either the app doesn't register clicks, or it just takes too long to respond, but you never know if the click went through until something happens.Overall, I can't say OverPlay's Windows client comes out winning when compared to their awkward OpenVPN setup. Inaccessibility of support doesn't instill certainty that novice users will be able to
The desktop client allows switching protocols, toggling the auto-reconnect, kill switch, IPv6 leak protection, and DNS leak protection features. You can also set ports, and initiate an installation or repair of OpenVPN driver from the app.You can also tweak the app's behavior and set it to connect automatically to the last connected server upon launch or connect to the fastest server in a country automatically. That's a welcome usability improvement.
P2P is allowed, and there are servers specifically geared toward gamers. But read the provider's DMCA policy before you proceed with torrenting.SmartDNS comes as a rather standard setup – you need to edit the DNS servers addresses in your device's settings.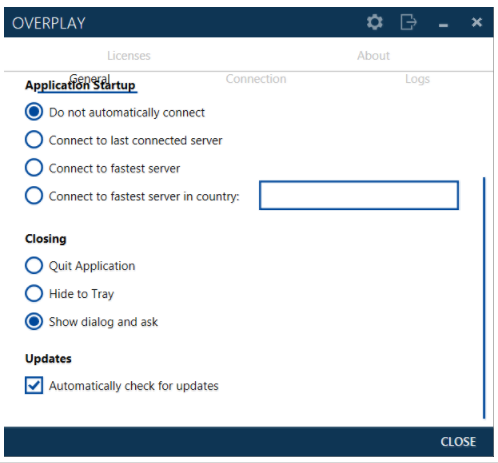 Tests
I tested OverPlay for speed and security issues. My initial connection wasn't stellar but I could stream and play:

Whereas the download speeds on most servers fell by almost a half, the upload speeds improved slightly. Here are the results for OverPlay US server:

UK server:

Security-wise, all my tests showed no leaks, which means encryption is working as it should.No DNS leak:

No WebRTC leak:

Nor IPv6 leaks:
What was left unclear was why the IPVanish servers showed up on the OverPlay's DNS test. I found nothing on the matter online, so this topic is left open for speculation.

Despite the lethargic speeds, I managed to access Netflix US and BBC iPlayer. While the latter gets easily unblocked by many VPNs out there, Netflix US is a tough nut. For now, it works, so let's hope OverPlay will be able to keep it up.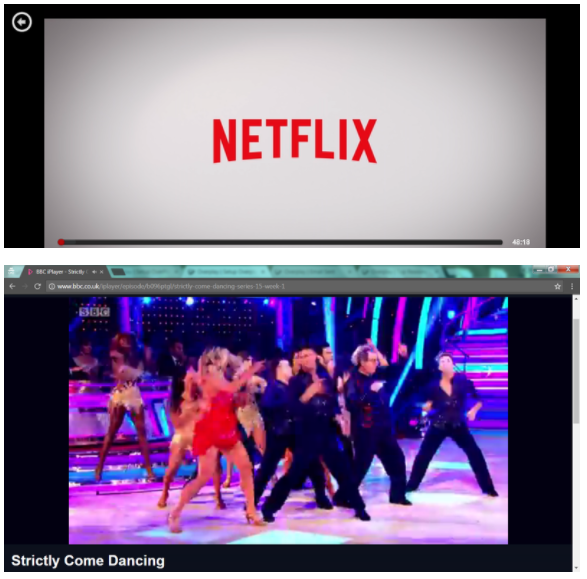 Privacy and Security
The security specs look good at OverPlay. The VPN supports PPTP, L2TP, and OpenVPN protocols, backed by SSL security and 128-bit Blowfish encryption. It's not the top-tier encryption you can get from a VPN, but it's enough for private browsing.The company's small print is comprised of its ToS, Privacy Policy, and DMCA Policy. Their privacy policy comes down to a single sentence:

The refund policy is equally clear – no questions asked as long as you request a refund within the first five days of subscription.Account sharing is prohibited, so is VPN chaining, or connecting to the service from another VPN. Even though P2P and the use of BitTorrent are allowed, sharing pirated material is not. Perhaps, one of the biggest concerns with this provider is its UK origin. If in doubt, check out the Five Eyes surveillance group. Moreover, UK is tough on copyright infringement.
Final Thoughts
OverPlay VPN is expensive and not the most intuitive VPN. So, beginners should look elsewhere. When it works, however, it gets the job done thanks to the sheer number of servers and the SmartDNS feature. Their security specs aren't top-notch but sufficient for average users. Finally, their stance on privacy is inviting, but their UK jurisdiction cripples the idea of unbridled P2P.