VPN Unlimited Review (2023)
Last updated on January 8th, 2023
VPN Unlimited was considered a mediocre choice in VPNs. But the complaints must have made an impression because VPN Unlimited seems to have made some major improvements. Regardless of the platform or device; VPN Unlimited has an app for that: Windows, Windows Phone, iOS, MacOS, Linux, Run your VPN through a browser extension, and Apple TV.
We might receive compensation from the companies whose products we review. The opinions here are our own.
What we like
Very low priced service plans
300+ servers in more than 50 countries
5 connections simultaneously
Torrenting supported on certain servers
What we don't like
I honestly can't think of any; VPN Unlimited was a pleasure to install, configure, and use.
Features
VPN Unlimited is a U.S. based VPN service offered by KeepSolid Inc. They maintain over 300 servers around the world, although most of them are found in Europe and the United States.
Sign-up was a simple process, no better or worse than you'd expect. I installed the app on a Windows 7 machine and my Android phone – in both cases the app was installed easily with no hang-ups or buggy behavior.
The following info pertains to both Android and Windows apps.
Protection options allow you to choose from:
None: only VPN Encryption
Low: Encryption plus Anti-Malware
High: Encryption, Anti-Malware, Stop Tracking, and Adblock
You can also create your own black and white domain lists manually.
Users can choose from 3 VPN connection protocols:
OpenVPN: high performance and data protection
KeepSolid Wise TCP: "ultimate" security and medium performance
KeepSolid Wise UDP: "ultimate" security and medium performance
The KeepSolid Wise technology disguises VPN traffic as HTTPS; it's intended for countries without access to the free internet and VPN access is blocked
Users can choose their server or allow the VPN service to make the optimal choice for them.
Both the PC and Android apps will show:
Your service state
Your PC or Android device as IP addresses on a map
The connection status
The time left on your plan
The Windows and Android UIs are straightforward and easily navigated.
Pricing
This is where VPN Unlimited shines; if you need VPN protection, but don't have a lot of bread you can get started for $9.99 per month with the Economy Plan and get (inexpensive) privacy protection and peace of mind.
The VPN Unlimited Professional Plan requires one payment of $59.99 for a whole year of protection (just $5 per month). Of course, if you decide that VPN Unlimited offers the best service for your privacy needs; they offer users the Infinity Plan – currently going at $199.99 for lifetime VPN access. As of this writing, their best deal is a 3-year plan for only $2.78/month with a one-time payment of $99.99. Every plan VPN Unlimited offers comes with a 7-day money-back guarantee, giving new subscribers enough time to decide if their service is worth it.
Tests
VPN Unlimited didn't slow down my broadband connection at all. Streaming video on Netflix and YouTube is smooth, and browsing was uninterrupted by disconnects while pages loaded quickly. Accessing BBC iPlayer from the U.S. was problem-free using the U.K. Coventry server.
VPN Unlimited handily passed the DNS leak test. My anonymity was complete while using VPN Unlimited on my desktop. VPN Unlimited service is extremely tight. I'm not worried about IPv6 leaks.
Testing on mobile
You'll see the same screen as in the Windows app – your location and the location of your virtual IP. The Android app is responsive and I find the UI quick and easy to navigate. The Android app allows users to set their favorite server locations. You can set up black/white lists and security levels easily in Android. Finally, No IPv6 or WebRTC leaks were detected while running on Android.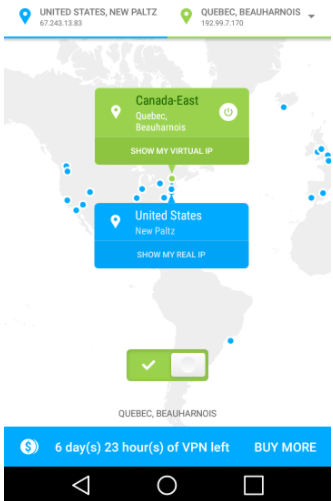 Privacy
The VPN Unlimited privacy policy clearly states that KeepSolid Inc. will neither collect nor log user activities while they're using the VPN service, except for session dates and the total amount of web traffic during each session
This info will only be displayed in each user's statistics panel (account page in the desktop app). For a detailed look at their privacy policies, I highly recommend you visit their privacy page.
Final thoughts
Overall, I loved using VPN Unlimited – the logical UI, speed, server choices, security, and especially price; all combined for a high-quality user experience.