ZPN.IM VPN Review – 2022
Last updated on September 20th, 2022
UAE-based ZPN.IM advertises "best free VPN" and protection from hackers and surveillance and a generous 10 GB monthly data.
Why Choose ZPN.IM VPN
Their paid plans offer access to servers in 28 countries, unlimited bandwidth and data, P2P support, and access to streaming services. But numerous red flags popped up during this review, and I'm inclined to tag this provider as "NOT Recommended" or possibly "Discontinued." But their mobile apps have never been removed from the app stores.
Best VPN for
Netflix, Hulu, and streaming online
Torrenting and downloading
Security and privacy
Works on
Mac
Windows
Android
IOS
Linux
Routers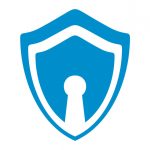 Pros:
Free VPN without registration on mobile
P2P allowed
Supports OpenVPN
Cons:
Impossible to register an account
Unresponsive service
Slow speeds
No customer service
Ad-supported
Contradictory ToS and Privacy Policy
Pricing and Plans
ZPN.im offers three subscription models. Their most popular plan is the free VPN with a generous 10 GB monthly quota, which is something you won't find with other free VPNs. It allows one connection, five server locations, and no logs. The free plan doesn't allow P2P and limits your bandwidth.Except for you can't register an account. I never got my verification email, even though I tried registering on three occasions, using three different emails, at different times throughout the past month. I sent their support a couple of emails only to get an automatic reply my messages could not be delivered. Never a good sign.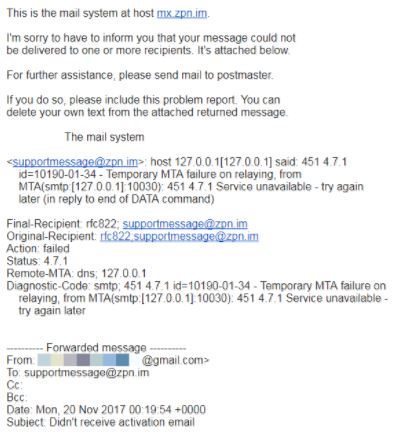 At this point, I do not recommend anyone buying any of the paid plans or count on their seven-day refund policy. Their mobile plan is $2.99/mo, $7.47/3 months, or $23.88/year with 50 GB quota, one connection, 20+ server locations, and P2P support. You get unlimited bandwidth here. Their Premium plan kicks in at $9.99/mo, $23.97/3 months, and $71.88/year and allows up to five simultaneous connections, 20+ server locations, P2P, and unlimited bandwidth. They accept credit cards, PayPal, and Bitcoin.
But you can try their free mobile VPN without a subscription. It's limited to several hours a day and five server locations, and it's the most risk-free way of testing the service.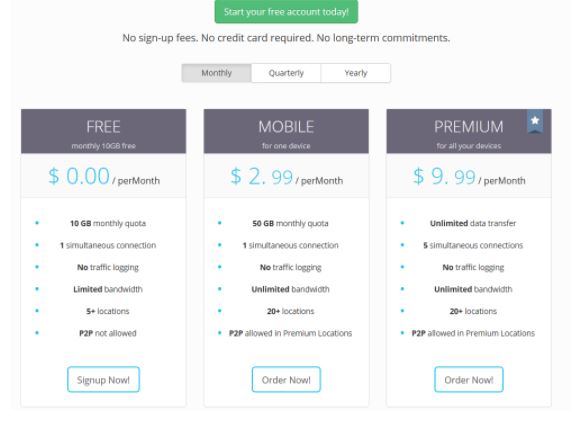 Features
ZPN VPN offers software for Windows, Android, and iOS devices. Since there was no way to get a response from their support, I couldn't test their desktop application but took a couple of screenshots. It looks dated and poorly scaled.I tested their Android app on two occasions three weeks apart. In November, the free VPN for unregistered users seemed to work. The app is user-friendly, and at that time it was more or less functional.
In December, it only connected to a US server and then lost connection altogether. My Samsung Galaxy tablet shut down itself when ZPN crashed.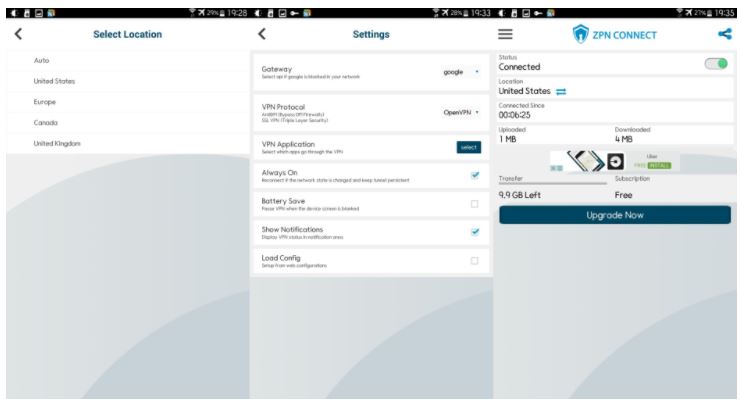 User reviews list similar problems. Make it a habit to always read user reviews before installing mobile apps. The app might have a great 4.3 rating, but the negative reviews are detailed and informative whereas the positive reviews mostly come from Indian users and say nothing but "great app." The pattern is typical of black-hat pumping up app ratings through paid user reviews.
Their mobile app lets you tweak how you want ZPN to run, add apps you wish to run through its VPN, choose the gateway, VPN Protocol (OpenVPN included), and even enable the battery saving feature, which pauses VPN when the device screen is blanked.
Their Windows desktop app bundles a kill switch and a few more nifty perks, if only it had worked.

Tests
When the mobile app worked, it didn't leak my DNS, WebRTC or IPv6:
My mobile speeds were slow, and the ZPN VPN chopped from that, too: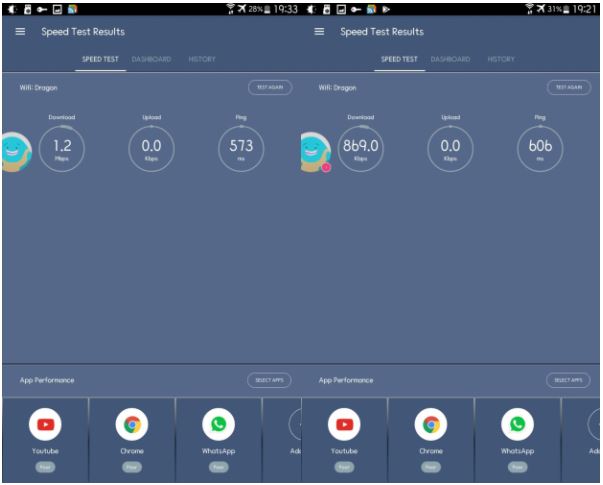 Netflix refused to let me stream while I was connected to ZPN VPN on Android: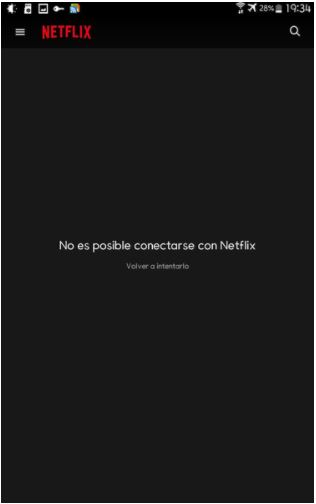 BBC iPlayer recognized I wasn't in the UK, even though the security tests revealed no leaks: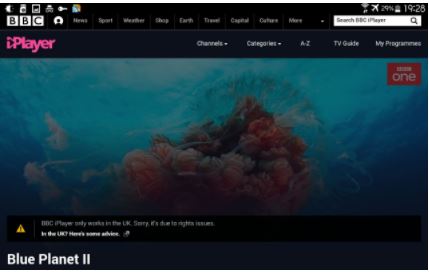 Privacy and Security
Someone once said it's useful to ignore everything that precedes "but" in a statement because it's usually voided by what follows. This looks to be the case with ZPN.The company appears to be registered in the Arab Emirates, but the details about the business are scarce. I've found a reference to Vostok Soft Fzc. registered in the United Arab Emirates, listing two employees. A WhoIs lookup lists Zlatan Mihail from Nuremberg, Germany as the site owner. The domain expires in 2021. A quick Google search reveals "Vostok" is Russian for East, so the company might have some Slavic or German roots. This may be nothing, but the social media accounts have been silent since December 2015. The company's ToS and Privacy Policy aren't long but contradictory. The provider does not store your information other than the email you provide at sign up, but:

The above suggests the VPN does not monitor your activity when you are connected to their VPN but may do so when compelled. The provider shares your information with affiliated partners, and the mobile app is ad-supported, which might be justified by the zero dollars price tag. But considering the lack of response from the provider, it looks like a plain scam.

Do you even understand what that means?ZPN allows torrenting except for when using their UK, US, Canadian, and Australian servers, but the following clause suggests censorship and usage monitoring:

Final Thoughts
I couldn't confirm if ZPN was discontinued or still active. Its mobile apps haven't been updated for over a year; verification emails never come; social media accounts have been silent for the past two years; support is impossible to reach. Yet, some servers appear to be working. I do not recommend buying anything from this provider or installing their mobile adware. Their business model isn't conducive to your privacy.