Opera VPN Review (2023)
Last updated on January 7th, 2023
On November 6, 2017, Opera sold SurfEasy to Symantec for $38.5 million in cash. Legal documentation regarding Opera VPN's ToS and Privacy Policy still refers to Opera as the owner. So the jurisdiction of Opera VPN is unclear.
We might receive compensation from the companies whose products we review. The opinions here are our own.

Get Opera VPN
What we like
Free
Cross-platform
Easy-to-use
Unblocks Netflix US
No data caps
Unlimited number of simultaneous connections
What we don't like
Logs your usage
Sells your data
Serves you ads
Discloses your data to law enforcement
Unclear jurisdiction (Canada, US, China, Norway)
Features
Opera is a renowned cross-platform browser that has been offering a free VPN feature to all its users since 2016 when Opera acquired a Canadian VPN provider SurfEasy.
Opera VPN is a free proxy feature that comes bundled in the Opera browser for Windows and Mac, while Opera Free VPN mobile app is available for Android and iOS as a standalone app, which comes apart from the Opera mobile browser.To use Opera VPN, you need to install Opera browser on your computer first. Then, go to browser Settings, open Privacy and Security section, and check the box next to Enable Opera VPN. You're good to go.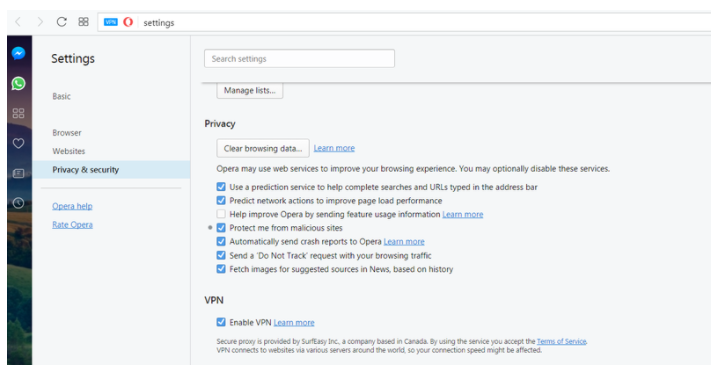 Using Opera VPN in the desktop browser is extremely easy – toggle the VPN button, and choose the location. Give it a few seconds to connect and check your IP – Opera proxy is working.On mobile, you need to download Opera Free VPN and grant it permission to access your Wi-Fi network.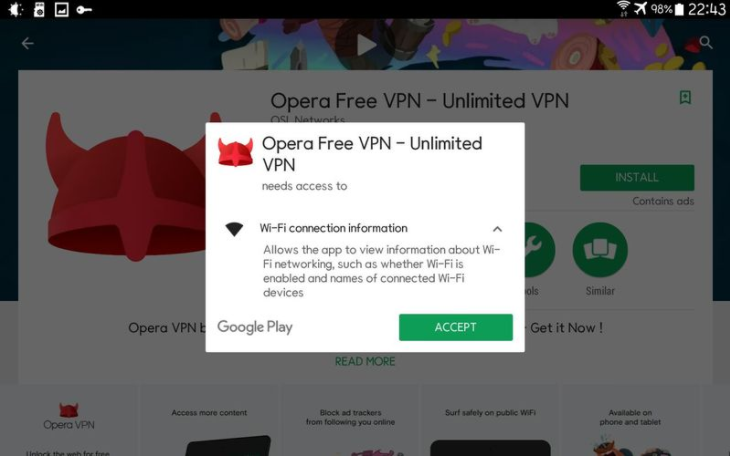 The mobile app is also simple in use and sports a toon-style interface with minimum toggles. You can choose between the same set of five locations, check the security settings of your Wi-Fi connection, and enable an embedded ad blocker.The mobile app's settings let you force Opera VPN to keep running in the background so that your system doesn't force-close it. You can also have Opera VPN auto-launch after the device boot.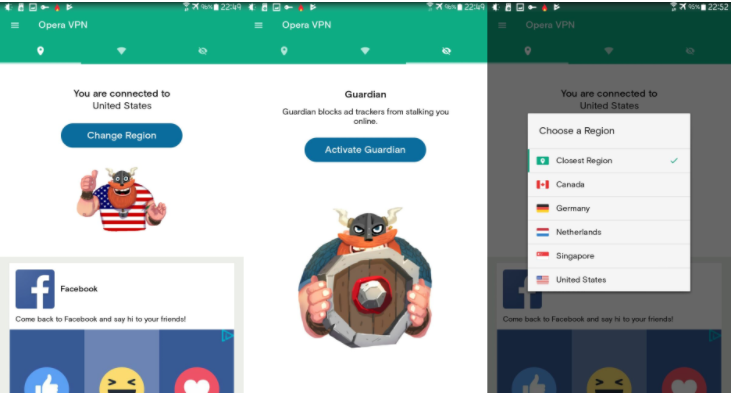 As far as guides and FAQs are concerned, there isn't much since usability and troubleshooting are minimal here. The Opera browser has a dedicated page that explains how its VPN works, while the mobile app has links to FAQs and legal documentation.
Opera VPN (or browser proxy) offers five locations you can spoof – US, Canada, Germany, Netherlands, and Singapore. By default, the app will choose the closest and the fastest connection based on its estimation of your real location.
On mobile, there is also an ad blocker feature and a neat Wi-Fi test that identifies the weak spots in your current Wi-Fi network.There are no toggles for protocols, encryption, kill switch or DNS leak protection. It's all very basic and geared toward occasional users.The mobile app functions as a VPN, routing all your traffic through its servers, whereas the desktop browser's VPN feature only routes your browser's traffic through Opera VPN.There is no data cap, and you can run it on as many devices as you like.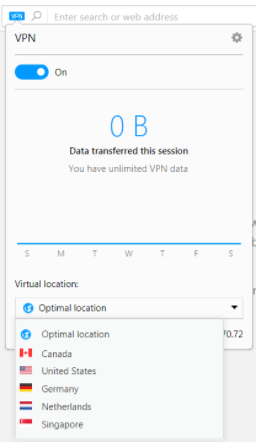 Pricing
It's free, and you can connect as many devices as you need as long as they are supported. There is no data cap, either.
Tests
Performance-wise, Opera VPN proved to be rather capable. It didn't slow my connection, which was initially slow tonight:

Here is my speed for the US server:

I also tested Opera VPN for security leaks, and found nothing to point the finger at – it didn't leak my WebRTC or IPv6 while relying on Google DNS servers: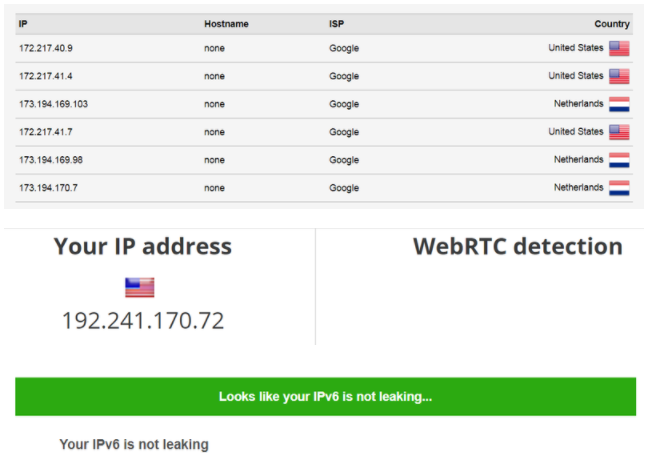 From the privacy perspective, the VPN's reliance on Google DNS is not necessarily bad since your DNS requests appear as coming from Opera instead of your real IP address. For a free proxy, this is okay.
In my desktop browser tests, Opera VPN unblocked Netflix US without breaking a sweat – color me impressed:
Since there is no UK server on offer, I couldn't test it on BBC iPlayer.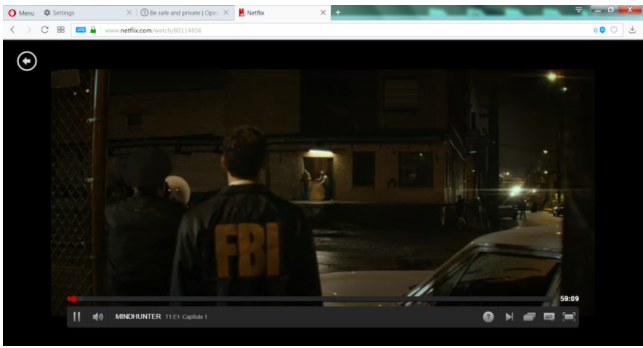 Privacy and security
This is where it gets interesting. When a VPN is free, the provider typically monetizes your data to serve you ads, sell your browsing profile to advertisers, and whatnot. Opera VPN Free on mobile serves you ads and monitors your activities. The Privacy Policy and ToS governing your use of the Opera VPN mobile app explain the company collects your usage data, including web addresses, IP locations, randomly generated identifier by SurfEasy, device and browser information, OS type, your IP address and time, and any other information the company deems necessary.
Opera VPN that's in the browser links to SurfEasy for ToS and Privacy Policy, too, which clearly states the company collects personal information on its users and may disclose it to law enforcement or other government authorities and agencies should they request it.SurfEasy may share, sell, and distribute your anonymized aggregated usage data to third parties, and it's still under Canadian jurisdiction. Even if it's now the property of Symantec, which isn't reflected in its ToS, yet, a US jurisdiction is no better than the Canadian from the privacy perspective. With the Chinese Golden Brick mixed in the equation, Opera VPN looks like a steaming mess of jurisdictions, and all of them are bad for your privacy.
Final thoughts
Opera VPN is an attractive proposition because who doesn't like freebies that unblock Netflix? It's extremely easy to use, cross-platform, and surprisingly fast, but it logs your activities top to bottom, inside out. I wouldn't use it for private browsing, and neither should you. The only scenario where I'd use it is for watching Netflix occasionally while it still isn't blacklisted by the streaming giant.