Goose VPN Review (2023)
Last updated on January 7th, 2023
Strict no-logs policy, 72+ servers, cross-platform, multi-protocol client, unlimited simultaneous connections, streaming, P2P, and wallet-friendly plans topped with a free trial make for a very lucrative proposition.
We might receive compensation from the companies whose products we review. The opinions here are our own.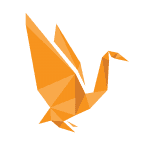 Get Goose VPN
What we like
Nearly free trial
Multiple simultaneous connections
Cross-platform
Easy-to-use
No usage logs
Flexible payment scheme
Decent security specs
P2P
What we don't like
Conditional super-stingy refund
Deceptive 30-day free trial bait
Based in the Netherlands
Pop-ups
No live chat – a chat bubble is misleading at best
Features
Goose VPN is a young Netherlands-based provider worth checking.
Goose VPN is available for all major platforms, such as various flavors of Windows, Mac, Android, iOS, Android TV, routers, Linux, and Kodi. The user dashboard is straightforward and intuitive. In no time were I able to download the Windows installer, and locate the server status page and the OVPN configuration files. The knowledge base is ample while the support is accessible from multiple locations – a live chat bubble, email, and the system embedded in the desktop app that lets you submit your logs for debugging.
Note: a live chat bubble is not a live chat per se – it opens a knowledge base. No kudos for that, Goose. The Windows client is a beauty. I may not be a fan of the bright colors due to the eye strain they tend to increase, but Goose VPN is so easy to use I don't mind the color.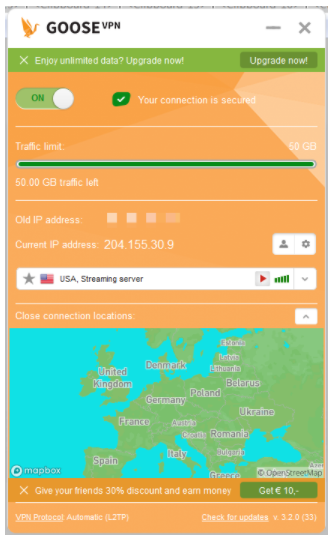 A quick connect button, your real IP, your spoofed location, a smart list of servers displaying information about the streaming and P2P support per each, and comprehensive settings make Goose VPN apt for both novice and advanced users.
By default, the connection protocol is set to automatic – not OpenVPN, which is no good if you ask me. From the security perspective, it makes sense to set the strongest defaults – not the fastest. Novice users might not know where to look or what setting to tweak to boost their security.
At the same time, with the Automatic protocol selection enabled, Goose VPN failed to establish connections. Once I switched to OpenVPN, the issue was solved.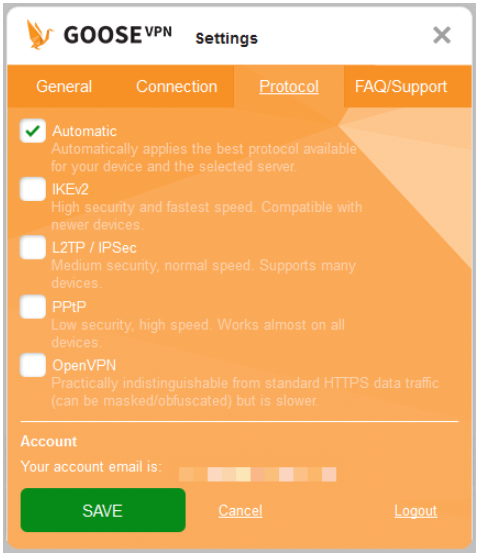 Connecting and disconnecting, switching servers, and scouting the servers list is hassle-free. All things considered, the usability of Goose VPN is top-notch. One real nag I came across was a double pop-up window that asked for a rating and feedback – a little too intrusive for a serious product.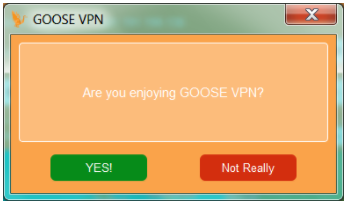 The Windows client comes with ample customization settings. Aside from the usual auto-start options, you can have Goose VPN remind you that you're not connected. The Connection settings allow you to connect to VPN automatically – either to your favorite server or to the nearest server based on your location. You can also enable the smart server list that automatically uses the best available server in the selected country. When enabled, this option hides the servers but displays the countries categorized into P2P and non-P2P or streaming groups. When disabled, you can see the full servers list by country.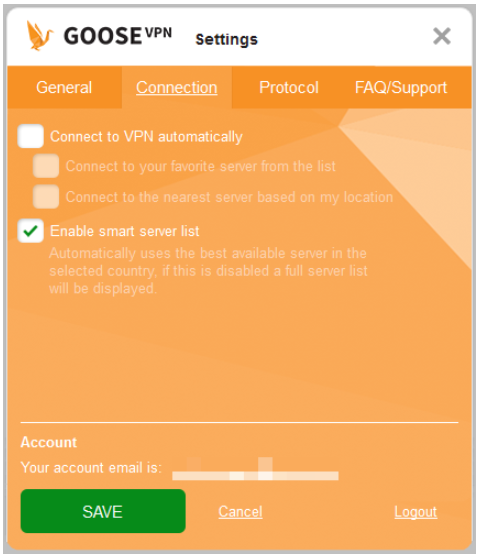 The Protocol settings offer a selection of connection options – automatic (best available but questionable in my experience), IKEv2, L2TP/IPSec, PPTP, and OpenVPN.The FAQ/Support tab has shortcuts to the provider's knowledge base and a quick way to open a support ticket and send debug data.P2P is allowed on many servers while others are specifically optimized for streaming.
Although there is no firewall or a kill switch, Goose VPN is easily one of the most streamlined VPN clients for Windows.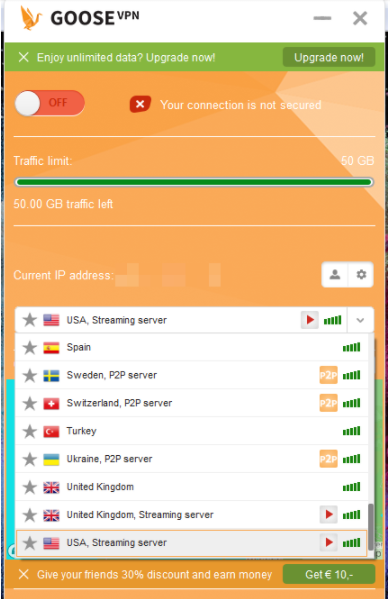 Pricing
Goose VPN makes a positive first impression by offering a free 30-day trial only to ruin that impression the next moment. You still need to make your first payment. Mind that the service grants itself an auto-renewable subscription privilege. But you are supposed to be entitled to cancel your subscription and request a full refund during the first 30 days without justifying your decision.
But be warned – there are a few hurdles along the way. A closer look at their super-stingy Refund Policy reveals you can't use more than 100MB. Beyond that, the decision is at the sole discretion of the provider. The cancellation procedure is a nuisance. The "cancel your subscription" button is difficult to find.
After you submit your cancellation ticket, you must confirm your intention by replying to a cancellation email.
Don't count on receiving a "Cancellation confirmation" email. Expect to receive a promo email offering a month of Goose free of charge with an inconspicuous link "Confirm termination." If you tend to ignore promotional stuff, you run the risk of not confirming your termination.
Deceptive practices like these don't add up positive points to this review. If you don't feel like limiting your browsing, a $10/mo subscription comes without limits. For $62, you can grab a yearly plan without data caps and the ability to use Goose VPN on as many devices as you need.
Goose VPN accepts payments made via credit cards, PayPal, and GiroPay.
Tests
Goose VPN did not fail to impress during my security tests. It did not leak my DNS, IPv6, or WebRTC: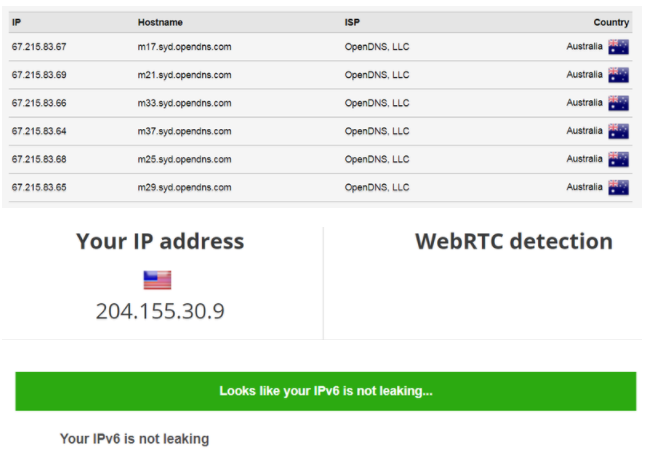 My speed test results were passable – not the best I've seen but fairly decent. With my initial speed before VPN:

Goose VPN with OpenVPN protocol enabled cut that by two for US connections:

and by three in the UK connections:

Goose VPN passed my streaming tests with flying colors, unblocking Netflix: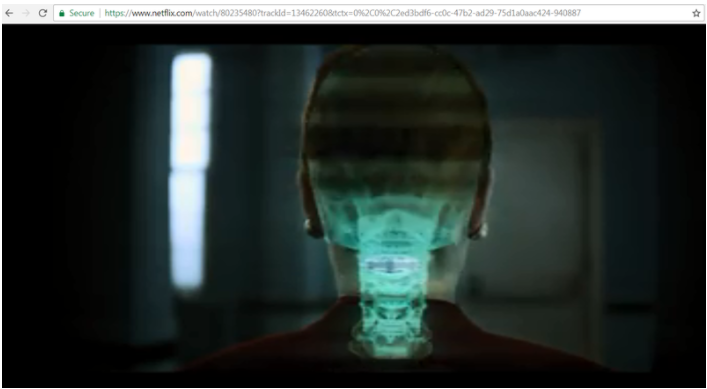 BBC iPlayer: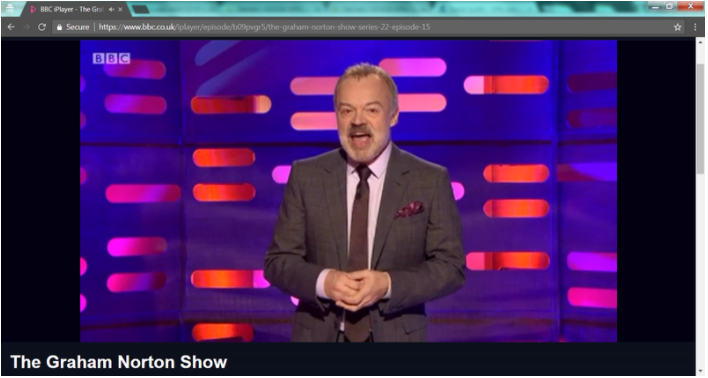 And even the Australian Channel 9: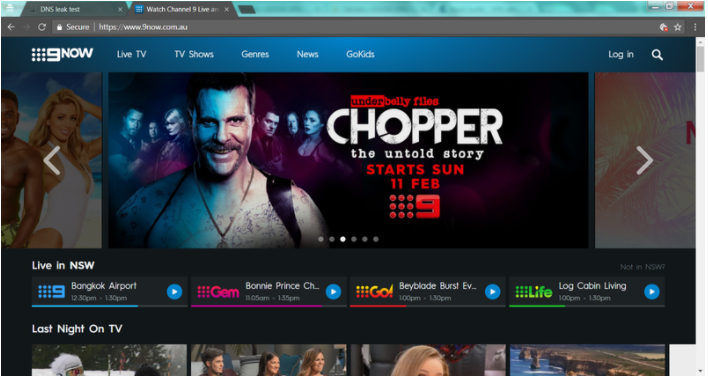 Privacy and security
Goose VPN's most comprehensive security option relies on OpenVPN based on AES-256 cipher paired with 2048-bit RSA key. The combination is currently considered a standard for VPNs, but some providers go as far as to use 4098-bit keys for RSA.
The weaker protocols like IKEv2, PPTP, and L2TP/IPSec are also available, but I wouldn't recommend those due to known weaknesses that could be used to compromise your traffic.
I am not convinced the default VPN settings should be set to the automatic choice of a protocol because good security is security implemented by design and by default.
On the privacy front, Goose VPN advertises a strict no-logs policy, but in the world of VPNs, everyone and their cat claim a zero-logs policy. That's why it always makes sense to drill down into the legalese and see what the company says, and what it fails to mention.
In the case of Goose VPN, their Privacy Policy is a lengthy document worth reading. The provider doesn't collect or store your Internet activities. Neither does the company store your originating IP address or the information about the servers you're connecting to during a session.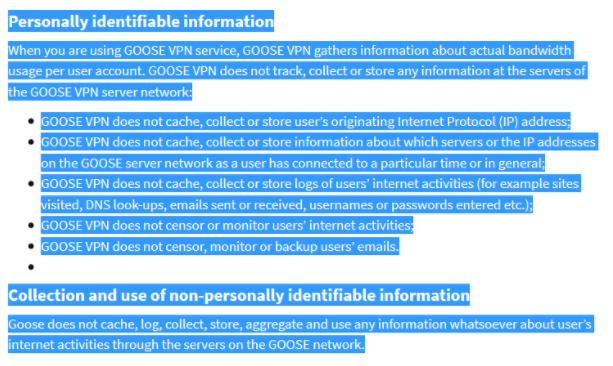 They do seem to log your used bandwidth, which comes as no surprise since some subscriptions come with data limitations. The policy also explains how the VPN servers are configured, which is a nice level of detail:

The provider's ToS refer to "legitimate P2P" in its fair use policy. There is no direct mention of how the company handles DMCA notices. What I see as a potential privacy invasion is the company's "refer your friends" campaign that's omnipresent across their website and the VPN client. If you aim to maintain your identity and your circle of connections private, disclosing them to any company – let alone a VPN provider – is the last thing you want to do.
Unfortunately, the company is headquartered in the Netherlands, which is not only a part of the Fourteen Eyes mass surveillance alliance but also boasts of some of the most privacy-intrusive laws in Europe alongside the UK. What this means is the likes of Snowden or Assange won't be using it. If your interest is purely consumerist, however, you should be fine.
Final thoughts
Goose VPN is a capable, easy-to-use, and affordable VPN with good privacy and security specs. It's not a whistle-blower-level service, but as a consumer-facing product, it delivers. You can stream, torrent, use multiple devices, and hope the provider means business when they say no-logs. Also, don't get misled by the 30-day free trial – read the fine print.