VPN Gate Review (2023)
Last updated on January 7th, 2023
VPN Gate supports OpenVPN, L2TP/IPSec, MS-SSTP, and SoftEther VPN's SSL-VPN protocols. It has a free anti-censorship tool powered by volunteers across the world. But trust issues, logging, and inconsistent speeds won't propel it to the top of the best VPNs chart.
We might receive compensation from the companies whose products we review. The opinions here are our own.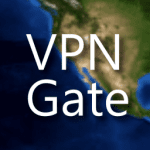 Get VPN Gate
What we like
Free
Open-source
Thousands of servers
Unblocked Netflix, BBC iPlayer, and Channel 9 in my tests
Relatively easy-to-use for average users
What we don't like
Extensive connection logs
Inconsistent speeds
Some volunteers could abuse your trust
Features
VPN Gate is an academic experiment by the Graduate School of University of Tsukuba, Japan. It is free, open-source, and, offers around 6608 volunteer-run servers around the world.
VPN Gate is available for most of your traditional platforms like Windows, Mac, Android, iOS, as well as any operating system that supports OpenVPN.You can connect to any of the available servers by either manually configuring your device's settings, or by installing the open-source OpenVPN app. Alternatively, you can use SoftEther VPN client, which is also open-source and robust.
The setup process is smooth and hassle-free for an experienced user. If you are new to VPNs, you might spend a little more time with the installation guide. But fortunately, the instructions are clear and chock-full of screenshots and infographics.
I tested two options – OpenVPN plus configuration files, and the SoftEther VPN client. The OpenVPN setup requires two things – the OpenVPN program and the configuration files. Getting the latter was easy – the VPN Gate website has a regularly updated list of servers. As I mentioned, there are more than six thousand of them. Sorting through the list manually takes time, but the list also offers some useful information, such as the duration of the last session, and the number of connections made.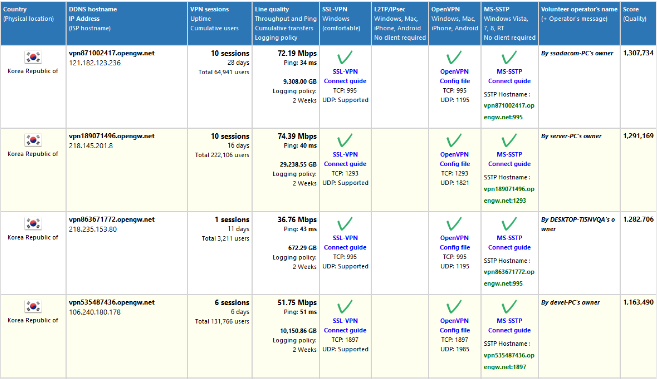 The config files come without a username/password, but even if some of them do require authentication, it's vpn/vpn. Connecting and using VPN Gate through OpenVPN was a breeze.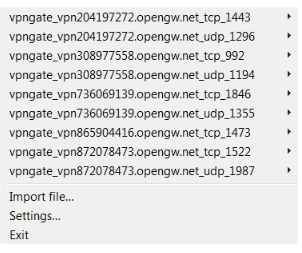 At the same time, some connections would drop, and here comes an important drawback of the VPN. Since its servers are run by volunteers, you have no guarantee that the server you are connecting to will be up as long as you need. Many of the servers on the list failed to connect, but it only seems normal for a volunteer-run network to have inconsistent performance.I tested SoftEther VPN, too, which is also open-source and a viable alternative to OpenVPN. It is referred to as SSL-VPN because it uses HTTPS and, therefore, SSL/TLS encryption backed by TCP port 443.
In layman's terms, SoftEther VPN is good for security because it makes VPN traffic indistinguishable from regular HTTPS traffic. That way, censors and firewalls fail to distinguish traffic coming from VPN and regular users. SSL-VPN works great for bypassing geo-blocks and local censorship.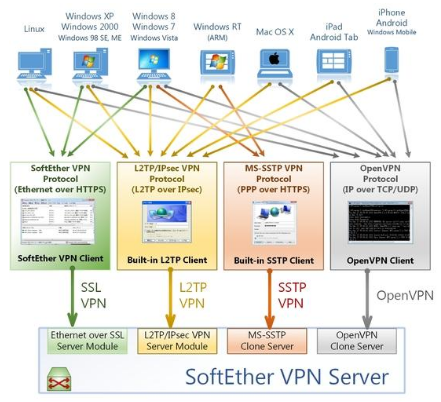 I installed and connected SoftEther VPN in a matter of minutes by simply following the setup guide. As software, SoftEther VPN is loaded with advanced customization options and supports various protocols besides the SSL-VPN.SoftETher is also compatible with Windows, Mac, Linux, FreeBSD, and Solaris, as well as Android and iOS.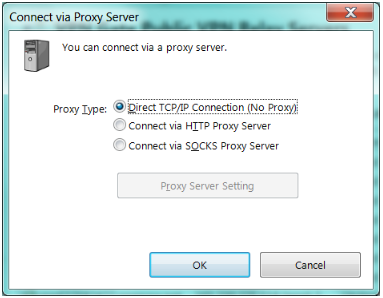 Using VPN Gate via SoftEther is even simpler than with OpenVPN because SoftEther comes with the VPN Gate servers list embedded. You don't need to download them manually.
In SoftEther, all you have to do is pick a server and connect. The embedded servers list can be sorted by various parameters, which makes it much easier to pick a server that works.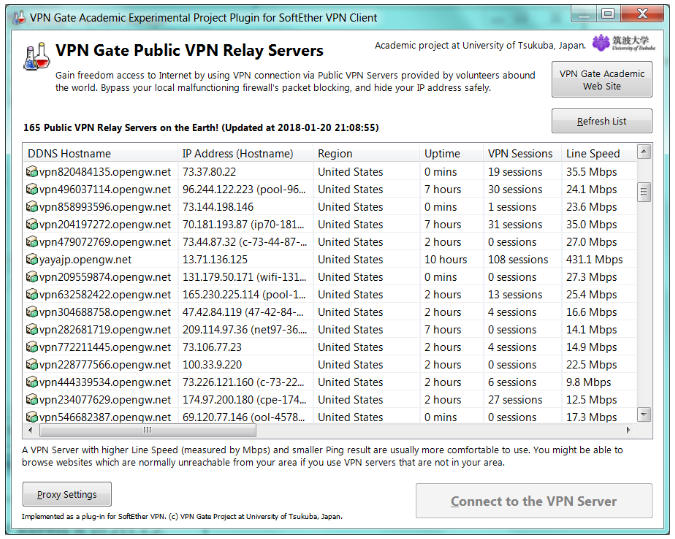 Note: customer support is understandably non-existent. You can post your questions on the dedicated forum, or browse its extensive knowledge base. Chances are your questions have already been answered.
VPN Gate sports a gazillion of servers and you can connect from as many devices as you want.
I would strongly recommend against torrenting via VPN Gate, however. First of all, it could get node operators in trouble with law enforcement in their countries. That would be very bad manners on your part. Second, operators might implement torrent-blocking technology on their end. And third, VPN Gate might not be as private as to protect your identity from copyright trolls.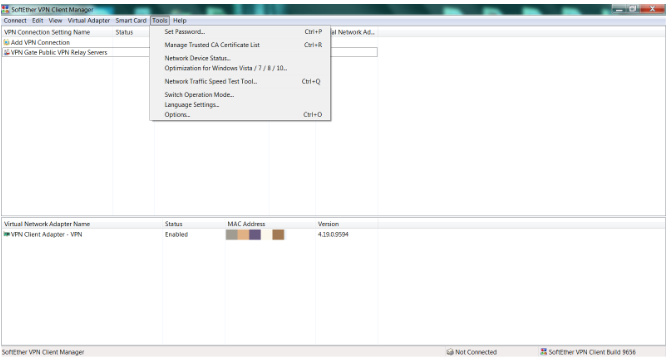 Pricing
VPN Gate is free. Anyone can use it without registration. In fact, the project developers at the University of Tsukuba explain their decision to keep the service free in practical terms. Making VPN Gate a paid service would require it to comply with Japanese data retention laws and report to the government directly. In case you didn't know, Japan has some of the most intrusive data retention and anti-piracy laws in the world.
Tests
Don't expect blazing-fast speeds from VPN Gate. Each server is run by a volunteer, which means consistency is not one of its strong points. You also have to factor in your geographic proximity to a VPN server.
In my tests, some servers were painfully slow, others were okay enough to allow video streaming. Here is my default speed before VPN:

And here is one of my tests run on the VPN Gate US server:

UK server:

Australian server:

My security tests did not identify DNS, WebRTC, or IPv6 leaks:
It's worth noting that VPN Gate features a large pool of servers in East Asia, so if you are somewhere near South Korea or Japan, you can count on much better performance.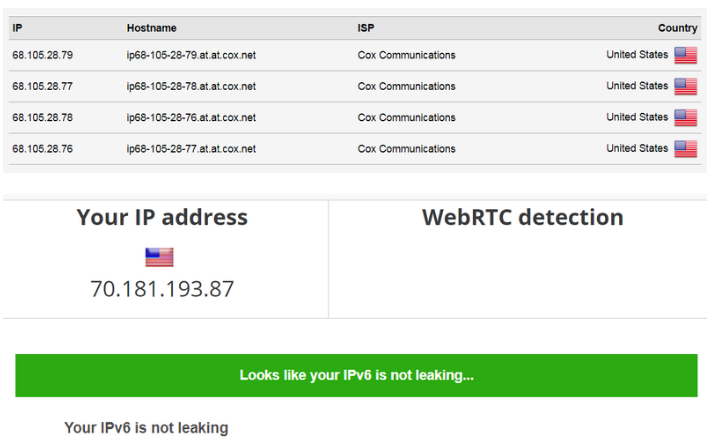 I didn't envision this happening – not with these speeds – but VPN Gate beat the competition in streaming because it unblocked Netflix: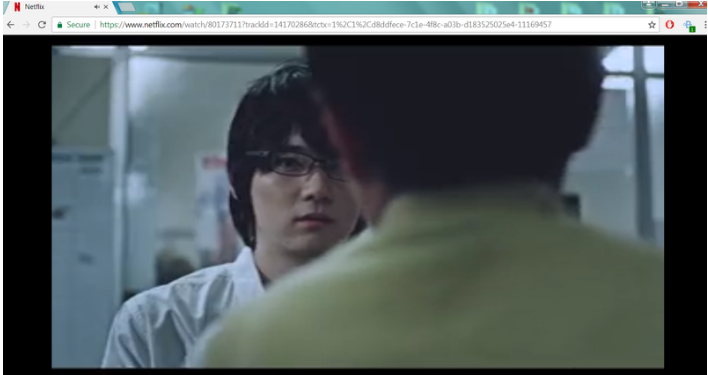 BBC iPlayer: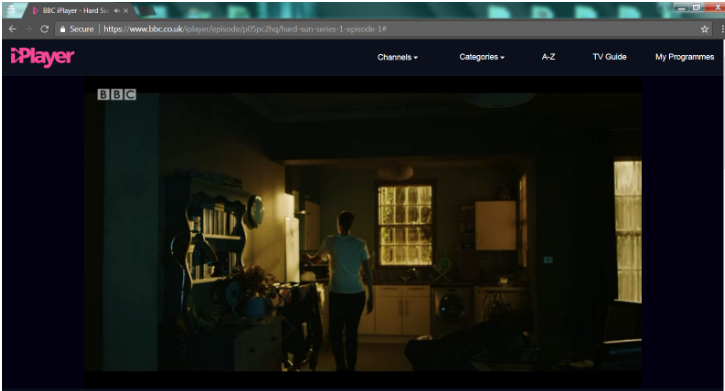 and Australian Channel 9, which is a tough nut to crack, almost like Netflix: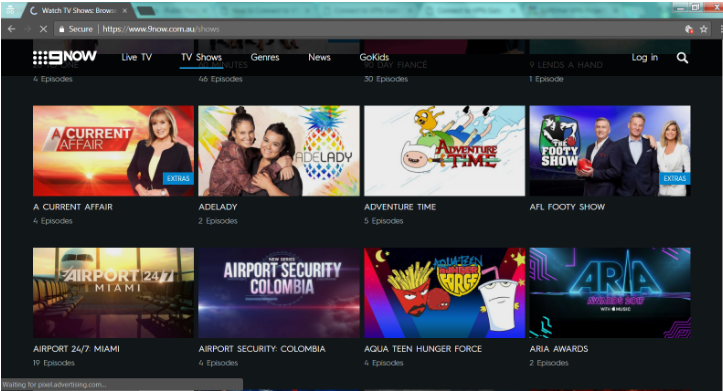 Privacy and security
And here is where things get tricky – using VPN Gate is a matter of trust. Trust in strangers, that is. On the one hand, VPN Gate allows you to use robust protocols. However, it is the server operator who chooses which encryption to use on their server. In theory, the technology allows up to a 256-bit AES with RSA 4096-bit key encryption. In reality, most of the servers I tried deploy AES-128. It's safe to assume operators do not deploy the strongest encryption.
At the same time, anyone can be that volunteer on your exit node – good Samaritans, or hackers. The server you're connecting to could be a malware honeypot, it could be intercepting your data, or it could be NSA. The servers list offers each server's logging policy, but there is no way to guarantee the logging policy is being followed. Operators are anonymous, at least for you, and unaccountable.
Moreover, the University of Tsukuba keeps your connection logs for three months to prevent service abuse. The connection logs include date and time, ID, IP address and hostname of the servers you connect to, raw IP address and hostname of your computer, the protocol you used, VPN software name, version, and ID, as well as number of packets and bytes in a connection topped by the debug logs and communication errors. The project's Anti-Abuse Policy clearly states the administration will disclose the logs to authorized people (law enforcement, lawyers, prosecutors, and whatnot). Also:

To be fair, VPN Gate is an anti-censorship tool, not a privacy or anonymity solution. So the logging and disclosure policies are reasonable, but I'd still steer clear of the service.
Final thoughts
VPN Gate has no rivals among anti-censorship tools and it can easily become your go-to option if you accept the underlying privacy risks – servers are run by unaccountable and largely anonymous individuals or entities that can monitor and log your browsing activity. It doesn't compete with commercial VPNs in speeds and logging policies, however.