Unblock-Us VPN Review – 2022
Last updated on September 21st, 2022
Unblock-Us is a SmartDNS and SmartVPN provider that first started out in Canada but then moved to Barbados in the pursuit of a milder legal climate.
Why Choose Unblock-Us VPN
Unblock-Us is a highly-capable DNS service that successfully unblocks an impressive wealth of channels, including Netflix. It supports a wide range of platforms and allows you to connect from as many devices as you need with one account. If streaming is all you need, go with Unblock-Us.
Best VPN for
Netflix, Hulu, and streaming online
Torrenting and downloading
Security and privacy
Works on
Mac
Windows
Android
IOS
Linux
Routers

Pros:
Week-long free trial, no payment information required
Excellent support
Unblocks a wide variety of streaming services (Netflix included)
Compatible with just about every device
Allows multiple simultaneous connections
Does not affect your speeds
Cons:
Not a VPN
Misleading SmartVPN setup guide lacking in important network compatibility requirements
Tedious VPN setup not apt for novice users
No encryption
SmartVPN relies on PPTP
No love for Linux
Accepts only credit card payments
You can't disable the service without changing your system settings
Pricing and Plans
Unblock-Us is one of the most affordable services out there, with a generous 7-day free trial. It doesn't require your payment details – just your email. The free trial affords you the fully-fledged service with SmartDNS and SmartVPN options and 24/7 support.Their monthly plan is conveniently priced at $5 while their annual plan will set you off $50. The provider only accepts credit cards.
No refunds are issued for monthly subscriptions. If you want to opt-out of their yearly subscription and get a refund, you need to cancel your subscription within the first 30 days. Everything beyond that period is nonrefundable.
Features
Being a SmartDNS service, Unblock-Us supports a wide range of devices from your usual Mac and Windows to mobile devices, Apple TV, PS4, Amazon Fire TV, Xbox One, and more. In essence, it supports things that connect to the Internet via Home Network type of connections such as DSL, cable, or fiber optics.
Their DNS requires manual set up. There is a small utility that does that automatically but their support recommends using manual setup, which is what I did after registering my free trial account.The registration process is instant – submit your email, activate it, set up your DNS using instructions on the website. The main page will display your account status automatically based on the three stages of your account setup – registration, DNS setup, choice of server. Manual DNS setup is a hassle but you only need to do it once. You will see three stages displayed as straightforward as it gets. When you're all set – it tells you so.
You need this graphic confirmation because there is no other way to know something works. Unblock-Us doesn't change your IP address, so all your typical VPN tests will display your actual location and DNS.Instead, Unblock-Us only routes parts of your traffic the "smart" way allowing you to access a wealth of streaming services across the globe.
Their SmartVPN is a completely different story. Their setup guide is an opus that can take you anywhere up to an hour of mingling with your device's settings if you're not technically-savvy. Since the setup is manual, you need to create a VPN connection in your computer's settings, tweaking a multitude of minor and major settings.Once I completed the setup, however, nothing worked. So I just downloaded an OVPN config file and tried it with the OpenVPN program. Nothing worked either – the app kept saying it couldn't read the file. That's when I usually stick to the uninstall-reboot-try-again rule. Fast-forward all the re-installation hassle, nothing worked – SmartVPN was by then officially one of the worst headaches I've been through with VPNs.
I found nothing that could solve my issues in the guides and FAQs, so I emailed their support. The website advertises 24/7 support, and it appeared true. I got my first reply in under 30 minutes. Since it took us more than one exchange of questions and replies, it took me about two hours to get to the bottom of it.The bottom line is SmartVPN is designed to work on 3G/4G, satellite, and public WiFi type of connections on mobile devices. The OVPN config file is only meant to work on OpenVPN Connect app for smartphones. It beats me why this was never mentioned anywhere on the website.
See the catch? I specifically relied on the SmartVPN setup guide for Windows 7 while the VPN main page says it's compatible with all major platforms. By failing to mention a serious network compatibility requirement, the provider has gobbled up several hours of my time – not cool.Kudos to Unblock-Us support, however. They were prompt and helpful.
There is not much to mention here except for a wealth of servers. Unblock-Us doesn't mention the total number or location of servers, but since it supports at least 20 Netflix regions, I'm assuming the coverage is decent.
Tests
Since there is no encryption at play, Unblock-Us doesn't affect your connection speeds.
At the same time, it does not mask your IP, DNS, WebRTC or IPv6.
Streaming is where Unblock-Us shines.
Netflix, BBC iPlayer, Hulu, all flavors of HBO, Crackle, Starz, you name it – their channels page offers an extensive list of all unblocked streaming services complete with a list of pre-requisites you need to be able to stream (cable subscription, account, OS, etc.)
It failed to unblock Australia's Channel 9, however.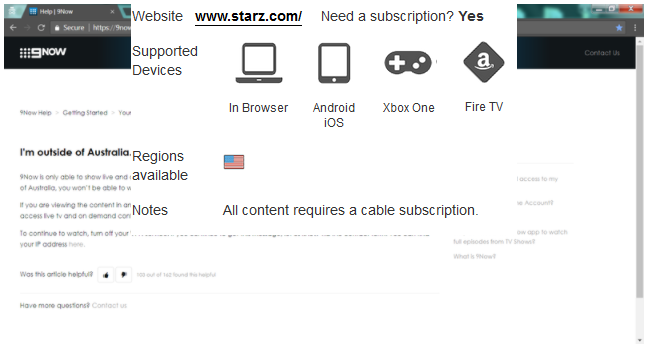 Privacy and Security
SmartVPN relies on PPTP without encryption. Security is not a priority here, so if that's what you need – look for a VPN service.Unblock-Us is currently registered in Barbados, while the website also refers to Cyprus. Both are good for user privacy, and the provider does not actively monitor user activity, or keep logs of it.However, the company reserves the right to investigate illegal use of its services, block, filter and restrict online content – including emails – it deems in violation of its ToS. No copyright infringement is allowed. Their Privacy Policy only refers to data collected during your visits to the provider's website.
Final Thoughts
Unblock-Us is a highly-capable DNS service that successfully unblocks an impressive wealth of channels, including Netflix. It supports a wide range of platforms and allows you to connect from as many devices as you need with one account. If streaming is all you need, go with Unblock-Us.If you're looking for privacy and security, however, look for a fully-fledged VPN – not a "smart" one.