Leafy VPN Review – 2022
Last updated on September 21st, 2022
Leafy VPN is a newcomer on the VPN arena. It is not clear whether Leafy VPN is an heir to its Hong Kong-based predecessor, which was founded in 2008 and discontinued some time back in 2013.
Why Choose Leafy VPN
The VPN – which is most likely not a VPN but a proxy – is free and geared toward Chinese users and expats living in China. It offers a selection of four servers and no data caps. Let's see if the freebie is worth a try.
Best VPN for
Netflix, Hulu, and streaming online
Torrenting and downloading
Security and privacy
Works on
Mac
Windows
Android
IOS
Linux
Routers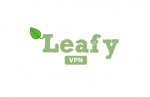 Pros:
Cons:
Not a VPN but a proxy
Only grants you US-based IPs
Hogs your device's resources
Presumably, based in China, so local laws apply
Android-only
Shows too many ads for the poor performance it provides
Slow speeds
Does not unblock Netflix
Pricing and Plans
Leafy VPN is free and ad-supported. This means you'll be watching ads at nearly every stage of your interaction with the app. Sometimes it's a small banner at the bottom of the app, other times it's a full-screen ad.
On the bright side, it does not require a registration or extensive app permissions.
Features
Leafy VPN is currently available for Android-based devices only. It is optimized for Android 4.4 and later. The app requires permission to receive data from the Internet, view your network connections, and prevent your device from sleeping. It also needs full network access. That's modest.
The app sports a minimalist interface you'll have no problem sorting out. The main page brings up several options – enable the VPN and enable the Auto Agent, which is the auto-connect that will launch your VPN the moment you launch the app and re-start your connection if it drops or if you accidentally kill the app from the task killer.
Notably, if the Auto Agent is enabled, Leafy VPN will keep connecting even if you close the app through the task killer. Some Android devices don't really kill a VPN through the task killer despite the available option. So, unless you want Leafy VPN to reconnect in the background at all times, you need to disable the Auto Agent.The app's FAQs explain Auto Agent as a smart proxy that, when enabled, routes websites outside China through a proxy, but leaves websites inside China without a proxy. When disabled, it routes all websites through a proxy. At this point, it becomes clear Leafy is a proxy, not a VPN.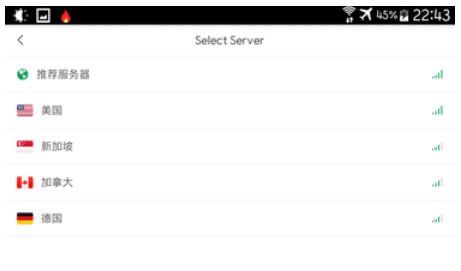 The next option allows you to select from five available options – automatic connection, or servers based in the USA, Germany, Canada, or Singapore.
The app's interface is a mix of English and Chinese – the options are in English, the countries are in Chinese. That's not much of a hassle since you can still see the national flags for each server.The FAQ option is the closest thing to a knowledge base and support, and that contains three questions.From the usability perspective, it's a simple and minimalist app that, nonetheless, manages to drain your device's resources.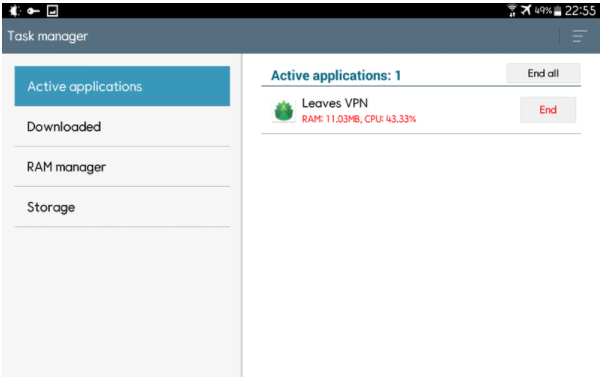 Aside from the Auto Agent, which keeps reconnecting your proxy and route websites outside of China through a proxy, the perks are non-existent.
Tests
Leafy VPN dubs itself as a VPN, but a quick check of its FAQ reveals it's a proxy. My speed tests showed the proxy did not affect my speed drastically but rather reversed my results – giving me slower downloads and faster uploads than my initial mobile connection.
Here is my speed before Leafy VPN:
and with Leafy VPN enabled:
Despite the satisfactory synthetic tests, my browsing experience with Leafy VPN was a downright debacle. It would work and then it wouldn't, and then it would take ages to load a page. The next moment it would work again. The speeds were inconsistent, the performance – poor.The security checks did not reveal a DNS leak, but disclosed the servers Leafy used:
This is no good since most streaming services and websites will be able to identify you as someone using a proxy.
No WebRTC or IPv6 leaks were detected during respective checkups:
Notably, no matter what proxy I'd choose, Leafy VPN would assign the same range of US-based IPs. So even when I wanted to try a German, Singaporean, or Canadian proxy, I'd still end up with a US one.
Netflix didn't even blink before locking me out – not that I expected anything else:
HBO allowed me to load an episode, but then took a break for endless buffering: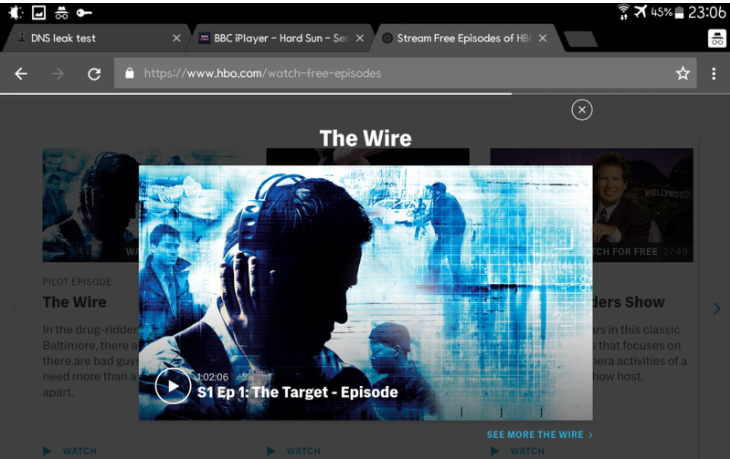 Privacy and Security
I strongly recommend against using Leafy VPN if privacy and security are your priorities. It's not a VPN but a proxy, and a weak one for that matter.I do not appreciate how the app's description dubs it as a VPN because it's misleading at best.Its three-line privacy policy and ToS state you can't do anything that violates Chinese laws and regulations, as well as laws of the countries where servers are located.As a proxy, it doesn't do a great job of protecting you, so any streaming website can see you're coming from a proxy. No tech specs are revealed anywhere in the app or its scarce description, but the most discrediting part about it is it never reveals its origins. I'm assuming it's Chinese, based on the app description.
Final Thoughts
Leafy VPN is free but extremely limited – it's Android-only; it offers four servers; it hogs your device. It's not even a VPN but an ad-supported proxy with inconsistent performance. There are much better options if you're heading off to China.