Lantern Review (2023)
Last updated on January 7th, 2023
Lantern is not a VPN, but a proxy that works through an open-source peer-to-peer network. Some people use it to bypass local censorship, but it doesn't protect you from targeted or mass surveillance. In fact, Lantern does quite the opposite by collecting an impressive portfolio of your browsing behavior and background. Using Lantern for privacy or anonymity is shooting yourself in the leg.
We might receive compensation from the companies whose products we review. The opinions here are our own.
Get Lantern
What we like
Free
ToS and Privacy Policy are explicit for those who have eyes to see
What we don't like
Poor speeds
DNS and WebRTC leaks
Does not unblock US-based streaming services like HBO, Hulu, or Netflix
Logs usage, hardware details, and browsing behavior
Deploys deep user profiling and usage cross-referencing via partner services
May throttle your usage and personalize ads for you
Features
Lantern is a US government-funded open-source proxy service developed by Brave New Software that came about in 2013.
Lantern is a lightweight app available for Windows, Android, Mac, and Ubuntu. The installation didn't take long, but the usage was quite different from your normal VPN. Upon launch, the app does not open a desktop client but launches your default browser with a spartan dashboard that lists your monthly quota, used bandwidth, your plan, and some basic stats like how many ads the app has blocked for you.
The Settings are equally minimalist. You can have Lantern run on system start, disable reporting of usage stats (enabled by default), and allow or disallow the app from managing system proxy. FAQs are also rudimentary. I hated that it opened my default browser since I only use it for personal browsing – certainly not for testing VPNs. So, Lantern profiled two of my browsers, great.
Support is only available via a forum on Google Groups, and there has been an avalanche of refund requests lately. Many of the comments are from Chinese users, which means a) Lantern was popular in China, and b) it is riddled with performance issues. Also, maybe some users finally read the company's ToS and Privacy Policy.
There are no perks in Lantern other than its free peer-to-peer concept. It obviously targets users in China, and its primary function is to let you bypass censorship, and access sites like YouTube, Facebook, Twitter, Skype, WhatsApp, or whatever social network that might be blocked in your region. In other words, it lets you access more spying and surveillance tools online.
Additionally, Lantern decides for itself which sites to proxy based on prioritizing HD video streaming. Lantern encrypts your traffic in transit, but the company's FAQs do not go into further detail as to what type of encryption is used.
Pricing
You can have Lantern for free, provided you are fine with a 500 MB monthly quota. There are also two paid subscriptions you can only access from within the desktop app. Dubbed as Lantern Pro, the yearly plan will only set you off $32 while the two-year plan is $48. No monthly or quarterly package – take it or leave it.
The Pro plans come with faster speeds, unlimited bandwidth, up to three simultaneous connections, and no ads. That's dirt-cheap, and you can pay via Payment Wall-supported options. Bitcoin is not supported. No refunds will be issued, just so you know.​
Lantern promotes its free service with surprising persistence, however. By making monthly subscriptions and short, paid trials unavailable, Lantern forces undecided users to try out the "perks" of their free proxy.
Tests
I was unimpressed with Lantern's performance despite the speeds because privacy leaks left no doubt the service is to be avoided. Here is the result of my speed test before connecting to Lantern:
and when connected to Lantern proxy:

It leaked my DNS and WebRTC (what did I expect? It's meant for streaming):
Since Lantern is meant for streaming region-locked services, I expected it to unblock some of them at least. Alas, it failed to grant me access to Netflix US, Hulu, and HBO, at which point I was wondering how they manage to lure anyone into subscribing to a paid service. Is it that people just don't like to read?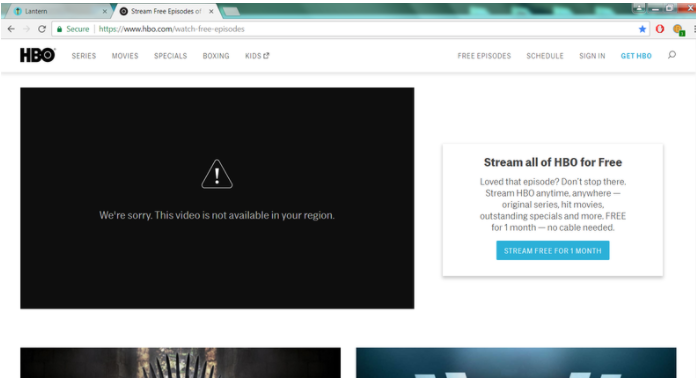 Privacy and security
This is where it gets really interesting. No one should ever use a VPN or a proxy without reading the provider's Privacy Policy and Terms of Service (ToS). Whatever you do through a VPN is visible to your VPN provider, so you want to vet a company you choose to trust carefully. That said, Lantern's ToS and Privacy Policy do not instill trust.
Aside from the information, you might willingly provide to the company, such as your name, email, postal address and phone number, profile picture, and payment data, Lantern also collects an unprecedented amount of usage data. Lantern logs data about the pages you visit, your IP, device unique identifier or ID, device type, geo-location data, computer, and connection or mobile network information, stats on page views, traffic to and from sites, ad data, referral URL, standard web log data and "other information," as if that's not enough. Wait for the other shoe to drop.
They also collect your data through the use of web beacons and cookies. The Privacy Policy then goes into great detail to explain what each of the above items may comprise. For instance, device information may include information about your device's hardware model, OS version, software and file names and versions, language preferences, advertising identifiers, serial number, network information, and, for mobiles, even device motion information. Lantern logs your IP address, access time and date, app features, pages viewed, "other system activity," type of browser, the third-party site, or service you were using before interacting with Lantern.
More so, Lantern openly admits to profiling. They collect information about you from other sources and combine it with the information they collect through their service. For instance, your account with a payment processor, and your Facebook or other social network accounts. Likewise, if you ever visit a website or use a service that relies on Lantern's API, or if Lantern is using their API, the provider also adds that data to your profile. Lantern reserves the right to throttle your usage, personalize and provide recommended content, social connections, and ads. They store your data in the US and may send it to other countries, and share it with third parties, the general public, and your employer. (Ta-dam!)And the band goes on and on, go ahead and read the documents in full if you have the nerve.
Final thoughts
Lantern is a privacy nightmare. It's not a VPN. But as a proxy, it doesn't even deliver its advertised anti-censorship workaround. Steer clear.