GoTrusted VPN Review (2023)
Last updated on January 7th, 2023
With 70 servers in the US, UK, Europe, and Asia, GoTrusted allows only one simultaneous connection. No torrenting is allowed and although their VPN relies on a selection of protocols (PPTP, LT2P/IPSec, and OpenVPN), you never know which one is in action when you connect to its servers. Advanced users will be disappointed with the lack of meaningful controls.
We might receive compensation from the companies whose products we review. The opinions here are our own.
What we like
Easy ​​​​​​​​​​​​​​​to use
7-day free trial
Unblocks streaming services
What we don't like
Overpriced
Connection logs
US-based; shares your data with third parties
Outdated UI
Zero transparency on protocols used in each connection mode
No meaningful customization options for advanced users
No simultaneous connection allowed except for one on your computer and one on your mobile device
Features
GoTrusted VPN is a Florida-based VPN provider with over 13 years on the market, however, its VPN offer did not evolve much past its initial version.
There are no fancy bells and whistles on offer here – support is available during U.S. office hours only. I encountered a subscription glitch – once my subscription was confirmed with PayPal, I was supposed to be redirected back to the website and finalize my account setup.
This seemingly minor issue took them three days to fix. I subscribed on Saturday but was able to access my account only on Monday.I expected a massive how-to library from a provider with over 13 years of existence, but the available FAQs are scarce.GoTrusted only supports Windows, Mac, Android, and iOS. No love for Linux users, or anyone looking to set up a VPN on their routers.
The good news is GoTrusted has a native desktop app for Windows and Mac and manual setup guides for mobile devices. Of note: you can only set up L2TP/IPSec connection on your mobile device.You are able to access the download links for your desktop installers from your spartan user account.The Windows installer took me through the typical installation routine. The Windows app greets you with a login prompt and from there, it resides in the bottom-right corner of your desktop as a little floating window.
The UI is spartan, too. This is not necessarily a bad thing. If you are new to VPNs, you will find it easy to use. Click "Go Secure," and your session status will display if you are connecting, connected, or disconnected.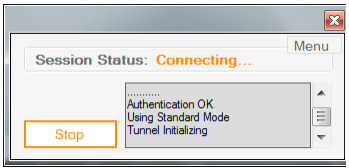 If you click the Menu icon, you will bring up a few additional tabs of settings. If you think there's anything of interest here, you're in for a disappointment because you are given no advanced controls here.The Advanced tab lists three connection modes – Standard (recommended/the fastest), Compatibility Mode (best in some locations), and Compatibility Mode 2 (slower but sometimes required).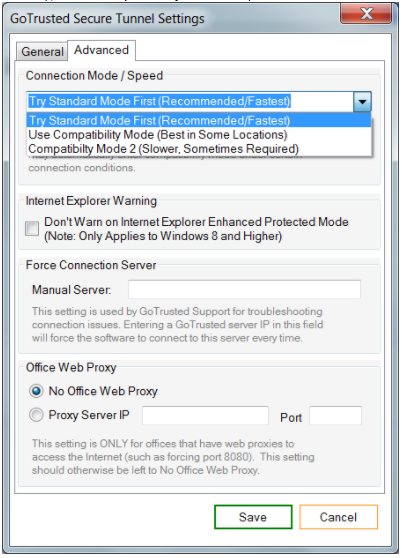 The company does not provide any further information about which protocol and encryption are used in any of those connection modes, or which locations require the said compatibility mode. Go figure.The General Settings tab allows you to change the server location. There is a short selection of areas – U.S. Auto/ East/ West/ Central, Canada, UK, Europe Auto/ East/ West, and Asia.
Pricing
GoTrusted offers a 7-day free trial to first-time subscribers. You need to submit your payment details, however. You should not be charged other than a minor $0.01. During the first seven days, you can test the service without any limitations. After the trial ends, your credit card or PayPal account will be charged. If you wish to cancel, keep in mind the provider's ToS are explicit about not issuing refunds after the first payment is charged to your account on the eighth day. GoTrusted offers three subscriptions – $9.95/mo if paid on a month-to-month basis, $52.50 per six months, and $89.88 a year. You can pay with your credit card, PayPal, and WebMoney.
Each paid plan bundles the same feature-set – no speed or data caps, no limitations on IP switch or other "hidden costs." The provider is stingy when it comes to simultaneous connections – you are allowed to use only one computer at a time. The only clause that qualifies as "simultaneous connections" says you can connect your computer and mobile device to its VPN service at the same time "at no extra charge." Bitcoin is not accepted.
Tests
According to GoTrusted, each of the available three connection modes fall back to the optimal protocol and encryption based on your location. My guess is it was always something other than OpenVPN in my case. Before connecting to the VPN, I checked my connection speed:
And here is my speed test result when I connected to their U.S. Auto, which cut down half of my speed:
their UK server ended up slower than my U.S. connection:
and their server in Asia saw my speed slowing down even more:
These results are just about satisfactory.
I was glad none of my security leak tests identified any flaws with GoTrusted VPN's performance. There were no DNS, IPv6, or WebRTC leaks detected:
GoTrusted successfully bypassed the Netflix and BBC iPlayer geo-blocks – color me impressed.
But if you're looking to watch Channel 9 outside of Australia, you're out of luck since GoTrusted has no network coverage in Australia or New Zealand.
Privacy and security
On the security front, GoTrusted offers OpenVPN with 256-bit encryption aside from L2TP/IPSec and PPTP. But you never know which protocol is enabled when you connect your VPN. The program goes as far as to say SSL encryption is enabled. I wouldn't recommend using this VPN for anything other than streaming.
As far as their Privacy Policy and ToS are concerned, the provider does not log your activity but does log your session data. This metadata, should it end up in the wrong hands, can speak volumes about you. The company also logs and stores your personal data – name, email, address, payment details, cookies, survey data, and something called "evaluation and feedback" data, which is stored indefinitely. "All information pertaining to user satisfaction" is a broad and vague definition for a chunk of data the provider chooses to log and store indefinitely.
Also, the provider involves an undisclosed number of third parties in its supply chain and shares your personal data with them. Top that off with GoTrusted's U.S. jurisdiction, and you get a rather toxic mix of data retention laws, gag orders, and privacy clauses. The provider will disclose your data to law enforcement if the company, in its sole discretion, deems it necessary. This suggests the company does not intend to send you prior notice. In short, if you're looking for some peace of mind and privacy, GoTrusted doesn't fit the profile.
Final thoughts
GoTrusted is overpriced for a VPN that offers no transparency about its tech specs or meaningful customization options. If you are new to VPNs, you might appreciate the ease of use and seamless streaming. But the fairly mediocre speeds and connection logs keep me from recommending it as a privacy solution. GoTrusted is a streaming solution, at best.