TorVPN Review (2023)
Last updated on January 7th, 2023
TorVPN is under the UK jurisdiction with 11 servers and also offers a seven-day free trial. However, it's technically over-complicated and dysfunctional at times.
We might receive compensation from the companies whose products we review. The opinions here are our own.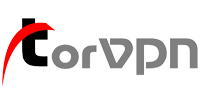 Get TorVPN
What we like
OpenVPN, solid encryption
Tor via VPN
Free trial
Acceptable speeds
Accepts Bitcoin
Flexible subscriptions
What we don't like
Leaks DNS
Free plan may not work at all
You can't choose a server for your free plan
Logs your IP, email, and connection data
May hijack your browser, usage logs are a possibility
Overly complicated setup
11 servers only
No live chat support, unresponsive email support
Retains your data even after account termination
Based in the UK
May disclose your data to law enforcement and third-parties
Limits traffic
No P2P
Features
There is no native client for TorVPN. Instead, you need to install the open-source OpenVPN client and set up Tor VPN through it. I went through a great deal of OpenVPN setups, but TorVPN beats them all in unnecessary complexity. If you're like me and think you can choose the server for your free trial, you're wrong. I needed to test their US or UK server, but I was unilaterally assigned a server in France, dubbed Mars. That didn't start so well.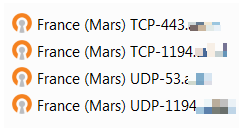 The user dashboard is anything but intuitive. The UI is outdated and doesn't instill optimism. You need to download config files (UDP, TCP) for your server, and then you also need to download a standalone config file that you need to copy-paste into OpenVPN config directory with admin rights. I have no idea why my VPN username and a standalone password are there because OpenVPN never asked me for it – the config files included my credentials.
Further inspection revealed that the free plan might not work altogether for six hours straight and then just start working because the server load decreased. The worst part about the server not working is the OpenVPN client showed my status as connected, new IP was assigned.

My customer dashboard even showed my active session – with my real IP logged – but nothing really happened. My IP test revealed my real IP, my real DNS, WebRTC, and all that jazz. So the OpenVPN client and my customer's dashboard confirmed I was connected when in reality I wasn't.
The problem persisted, and TorVPN live chat support was nowhere to be found even though the feature is widely advertised. I sent them two tickets but didn't hear back.

TorVPN supports OpenVPN, PPTP, and SSH. There is no native client, while the OpenVPN solution doesn't provide customization toggles worth mentioning.
You can enable transparent Tor proxy from your dashboard and OpenVPN redirect-gateway, but that's it. No kill switch, DNS leak protection, or firewall.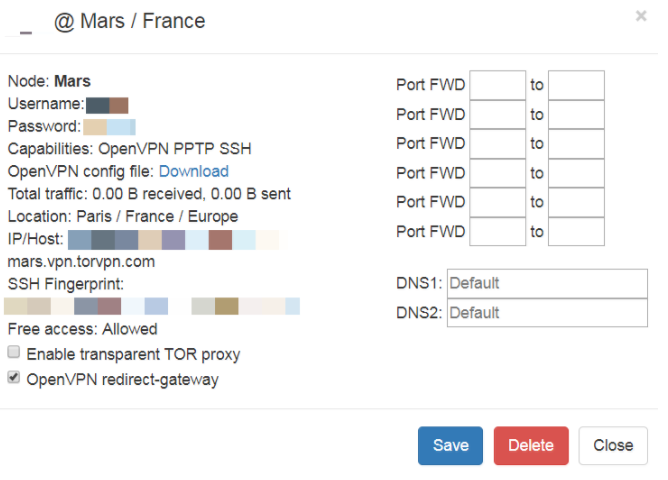 Pricing
TorVPN offers 11 servers, and if their servers page is anything to go by, there are roughly 100 users online at the moment, which is a modest user base.
I strongly recommend that you try their free plan before you commit to anything because if your trial is anything like mine, you won't be subscribing to a paid plan.
The seven-day free trial grants you access to one server only and allows up to 2GB traffic. It doesn't include SSH tunneling, but wait for the other shoe to drop – your free trial is subject to time limits and may be unavailable altogether depending on server load. I've never seen restrictions like these before, and it certainly looks like the free trial is not designed to help you make an informed purchase.
The paid plans are flexible. Cheap VPN costs £ 0.50 and buys you 15 days with one server, unlimited speed, two simultaneous connections, OpenVPN+PPTP, SSH Tunnel, and up to 5 GB traffic. Custom VPN sets you off £ 1 per month and unblocks one server, two sessions, and up to 10 GB traffic. You can customize the subscription length, number of servers and sessions, and the traffic cap. For instance, two servers, two connections, and 50 GB cost £ 1.7. All 11 servers with the same configuration cost £ 2. That is the level of price customization you won't find with most VPN providers.
Pro VPN kicks in at £ 1.90 per month, and bundles two servers, two sessions, and 60 GB traffic limit. Silver VPN, worth £ 5.50 per three months, unblocks all 11 servers, allows three simultaneous sessions, and has a 100 GB traffic limit. Gold VPN is their yearly subscription worth £ 19.90, which unblocks all 11 servers, allows up to 4 simultaneous connections, and finally removes the traffic cap.
TorVPN accepts PayPal and Bitcoin. Their refund policy is uninspiring:

Tests
During my 8th hour of the free trial, I finally got the privilege to connect to TorVPN. It turns out there was no technical flaw on my end. Neither there was a reply from their support. It looks like the server load decreased, so I got through. The speed drop wasn't significant. Here is my connection speed before VPN:

and with TorVPN enabled:

It did leak my DNS:

but not WebRTC or IPv6:

A French server didn't help me identify if TorVPN is any good at unblocking Netflix US or BBC iPlayer. In fact, TorVPN's ToS explicitly states they do not prioritize streaming, so there you have it:

I was wondering if YouTube's homepage would look French while I was browsing through TorVPN's French server (it even made me look like I was connecting from Versailles itself!). But it didn't:
This YouTube homepage looks perfectly American if you ask me.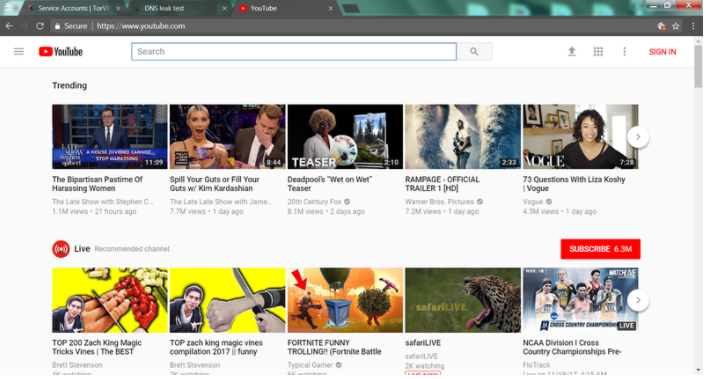 Privacy and security
TorVPN is under UK jurisdiction (14 Eyes, mass surveillance, Snooper's Charter). If you proceed to Lockspin UK Ltd's website, you will find nothing but a blank page with a dozen words at most – only the Root Certificate is clickable. This just doesn't seem right. The WhoIs lookup revealed that Lockspin's director is Marton Molnar, presumably a Hungarian. Considering the provider's website looks horribly dated, the lack of background information doesn't instill trust.

When I finally managed to connect, and launched a clean browser (cache and cookies cleaned alongside the browsing history, mind you) TorVPN gave me a jump scare by redirecting me to this authorization page, which made me fill out a captcha: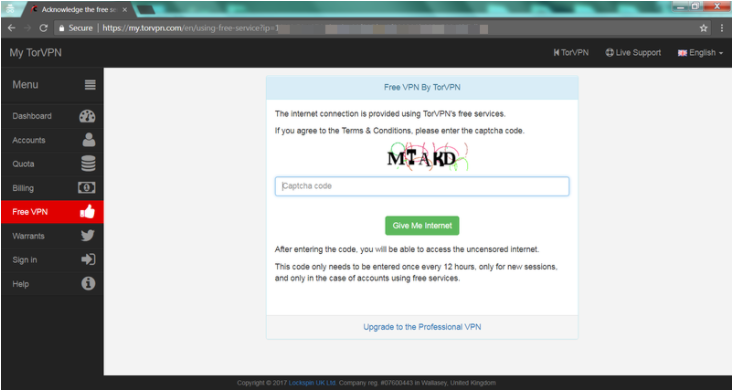 This creeped me out because it looked like a hijack – how else would you call it when the browser loads a page you didn't solicit?
Next in line is the provider's ToS and Privacy Policy. TorVPN makes no guarantees its service is available at all times. I already figured that out, thanks. The provider retains your data even after you delete your account, and may share it with law enforcement.

Their disclosure clause makes it clear your privacy isn't their priority: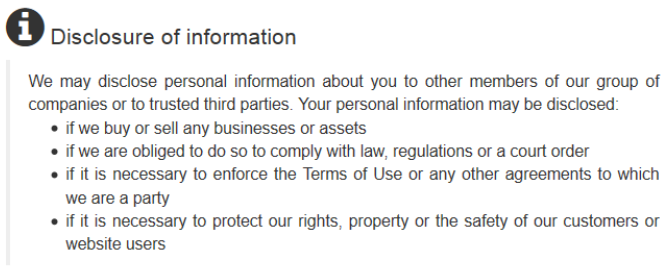 Interestingly, TorVPN doesn't specify which data they log. They log your real IP address and your email, and you can't use a disposable email. So, bear that in mind:

The provider maintains a Warrant Canary page, which is a weak consolation.
Final thoughts
I can't come up with a feature that makes TorVPN worth a try. It's technically over-complicated, and dysfunctional at times, and it lacks features and servers. Most importantly, it's super-vague about its logging policy but very clear about its data retention and disclosure policy. My take – avoid it. There are better options.