Acevpn Review (2023)
Last updated on January 8th, 2023
Their servers are built on high-speed Gigabit networks, which offer optimal levels of speed and latency, regardless of where you happen to be located geographically. And it's available on all major platforms and devices – including Mac, Windows, Linux, iPhone, and Android – which makes it hands-down one of the most convenient VPNs on the market today.
We might receive compensation from the companies whose products we review. The opinions here are our own.

Get Acevpn
What we like
7-day money-back guarantee
Supports all major platforms and devices
Supports all major protocols (OpenVPN, PPTP, L2TP)
What we don't like
Lacks a client
Misleading pricing advertised on the company homepage
Documentation tailored toward an audience well-versed in VPNs
US-based, which means they must comply with any and all requests from "Big Brother"
Features
Founded in 2009, Acevpn maintains VPN and Smart DNS servers in over 25 countries and more than 50 locations and supports all major protocols, including OpenVPN, PPTP, and L2TP.
Acevpn's Premium plan is anything but premium and errs more on the side of basic. If you're looking for super secure encryption, free remote installation, and access to servers in 25+ countries and 50+ locations, you're unfortunately going to have to upgrade to their Ultimate plan.
Getting started with Acevpn is a tad disappointing. After subscribing to the Ultimate plan, I started looking for the client software on the website. This ended up being a lesson in futility, however, since there isn't any. As it turns out, Acevpn doesn't use client software, so you'll either need to use OpenVPN or configure your device(s) manually, both of which can be challenging if you're not technically inclined. While installation guides are available in the knowledge base, after reviewing them, it became quite obvious to me that a non-techie would probably have a tough time setting everything up.
See the first page of the installation guide to the right.
The language and instructions are quite confusing, especially for someone who is new to the world of VPNs. It didn't take me long to set up my VPN since I'm already familiar with these terminologies, but if you're not, you could be in for a long night of configurations since the documentation is rather technical.​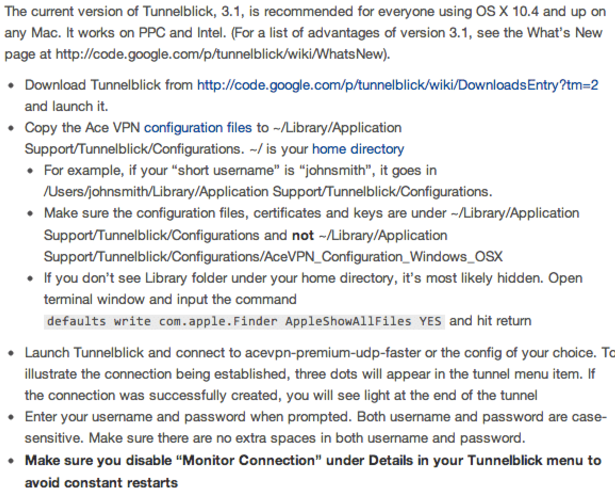 Pricing
Acevpn offers two subscription-based models, both of which seem pretty competitive from a pricing standpoint upon initial glance. The Premium plan costs a little under $4 per month and offers a basic feature set that's ideal for casual Internet users. For more demanding users, there's the Ultimate plan, which also includes Torrents and P2P and unlimited bandwidth on a fast network. It clocks in at $11.67 per month. Premium and Ultimate plans come with Smart DNS and Unblock TV, which are nice bonuses if you're big into streaming.
I personally feel that the advertised pricing on their website is a little misleading, however. In order to take advantage of these published rates, you're going to need to commit to a 3-year subscription. If you don't, you're looking at $5.95 per month for the Premium plan and $15 per month for the Ultimate plan, which puts them on the pricier side of VPNs.
All plans come with a 7-day money-back guarantee, however, so you have plenty of time to try things out before making any type of long-term commitment. If you like what you see after a few days, a 3-year commitment might not seem that bad. For me, 3-years seems like an eternity. Plus, I'm a tech geek at heart.​
One thing that's pretty cool about Acevpn is that they offer free access to their service. Just be prepared to work for it since they aren't in the business of giving away something for nothing. If you're up for the challenge, you'll need to do one of the following:
Have a website and be willing to write about them there
Refer your friends
If you write about Ace, your content will need to be approved before you start to reap the rewards of your efforts. The good news is that once it's approved, you'll enjoy free service for as long as the content is live.
If you're planning on referring friends, they'll need to list your email address when signing up. Provided they remember to do so, you'll "earn" one month's worth of service for each friend who signs up for a paid subscription. If you're looking for free VPN access for an extended period of time, make sure you've got a list of friends on your radar that you can reach out to as your subscription starts to wind down.​
Tests
To test speeds, I ran a speed test on www.speedtest.net. Here were the results before connecting to Acevpn:

And here are my results after connecting to the service:​
The ping ended up shooting pretty high, but this is most likely attributable to my distance from the server that I was connected to. There was a decline in speed as well, but it wasn't anything that was overly irksome.

I also ran a test to ensure that my connection was secure, and Ace passed with flying colors.
To round out my testing, I went to IPv6leak.com, and the results there were clear as well.


Privacy
Their Terms of Service state that they don't spy on users or monitor their service usage, and they claim to have never been involved in practices that violate the privacy of their users, including using turned-over SSLs or backdoors for networks. There is no mention of whether they collect data during session logins, however, which is obviously worrisome if you're someone looking for max privacy, especially since the company is based in the United States and must comply with any and all requests from intelligence agencies like the FBI and NSA.
Acevpn uses IPSEC IKEv2, OpenVPN, L2TP, and PPTP, in addition to 128bit and 256bit encryption.
Final thoughts
Acevpn is an average VPN provider that makes some pretty big claims on their website, including that they offer some of the lowest prices around. While it's true that their pricing can be ridiculously cheap, you're going to have to make a hefty commitment to them in order to take advantage of it, which is a definite knock if you have commitment-phobia, like me.
Performance is acceptable, but setup and configuration are a bit technical, which doesn't exactly make it newbie-friendly. And while their privacy policy isn't entirely transparent, features like Smart DNS and TV Unblock may be pretty appealing if you're facing geographic restrictions and are trying to binge-watch some of your favorite TV shows. Your best bet is to give their service a whirl before you commit to one of their paid plans. I sure was happy that I did.