BeeVPN Review – 2022
Last updated on September 21st, 2022
BeeVPN is a Danish company offering VPN services since 2012, or so it seems.
Why Choose BeeVPN
There is very little information about its origins. In fact, I can't recall another VPN provider that does not have a set of legal pages disclosing their Privacy Policies and Terms of Service. BeeVPN doesn't. For many, that should be enough to walk on by. If you insist on digging, however, I've already done the leg work.
Best VPN for
Netflix, Hulu, and streaming online
Torrenting and downloading
Security and privacy
Works on
Mac
Windows
Android
IOS
Linux
Routers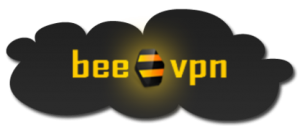 Pros:
Allows P2P
Accepts Bitcoin
Cons:
Expensive
Slow support
Poor speeds
No Privacy Policies or ToS
Undisclosed logging policies
No free or paid trial
Conditional refund
iOS requires additional add-on for extra money
Pricing and Plans
First off, BeeVPN is unreasonably expensive, and the price does not translate into quality in this case. Priced at €12 a month, BeeVPN will charge you €12.88 if you pay via PayPal. If you fancy to use it on your iPad or iPhone, expect to pay up €1.19 per month on top of what you already paid. And again, let me remind you – just because this blows my mind – that if you want the convenience of paying with PayPal, you're paying extra. On top of an already expensive service.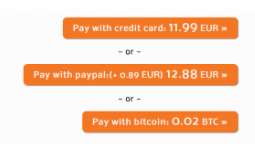 In a three-month subscription, you get a little discount – €23.97. Their yearly tier goes down to €79.08.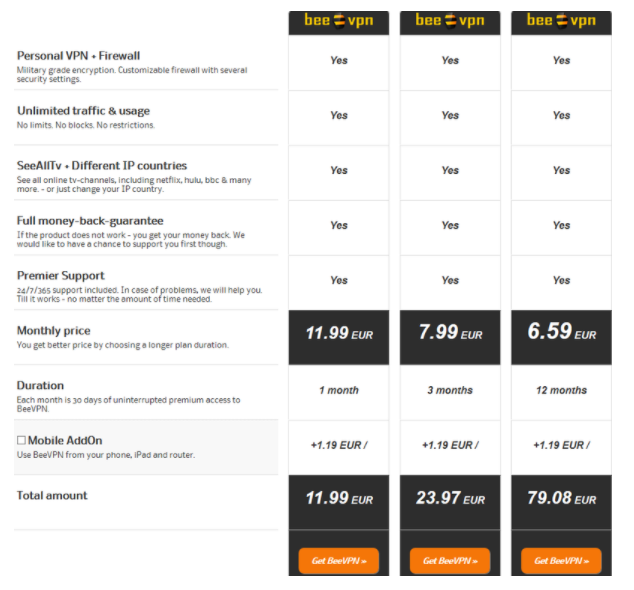 There is no free or paid short-term trial to address your doubts. Provided the paid plans have a conditional money-back guarantee, the overall conditions are draconian and expensive. I browsed for user reviews and it appears the company is unwilling to issue refunds if you are not happy with the speeds. In other words, if it works – never mind the poor speeds – you are not entitled to a refund.

My interaction with their support team only confirmed my suspicion – no refunds are issued for a used product. However, if you send a reasonable justification, they might consider your request on an individual basis.Did I mention you only get servers in Paris, London, Stockholm, and Copenhagen? That's right. The company accepts payments via PayPal (where they charge you extra), credit cards, and Bitcoin.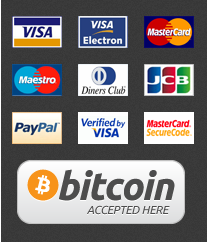 Of note: the checkout page seems to be the only place where you can access the link to the company's ToS. Miss that like I did, and you're locked out of the legal information regarding the service for good. That's unprofessional and rude if you ask me.
Features
BeeVPN supports Windows, AppleTV, Mac, iOS, routers, and PlayStation 3. There is a mention of Android phones on their main page, but there is neither software no installation guides for Android-powered devices anywhere on the website.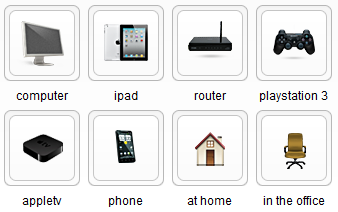 While browsing my "command center," I got a persistent feeling the website is hopelessly outdated. That feeling only got stronger when I got my hands on the VPN software itself. Everything in BeeVPN seems unnecessarily complicated, requiring extra clicks, extra logins, extra manual input.Seriously, you can not change a server without logging out and then back in, and mingling with your settings in the command center, which is horrifically convoluted.BeeVPN relies on Cisco DTLS, which should give you better security, such as 256-bit hardware-accelerated encryption and UDP. However, it failed my security tests miserably while its usability is below zero.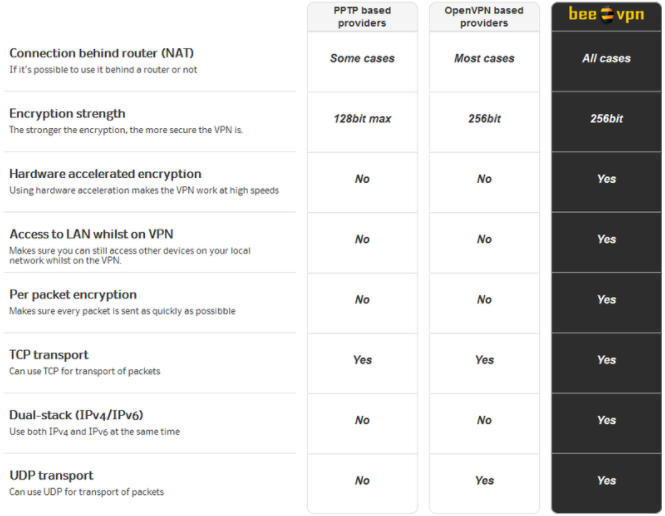 The .msi installer stumbled upon something it couldn't resolve on my Win 7 machine. I couldn't find any troubleshooting guides at all, so I shot their support an email.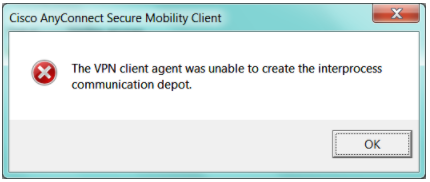 Note: the website advertises 24/7/365 support, but they only seem to reply once a day. And if you are in different time zones, good luck with getting a quick helping hand. However, I am willing to give credit where credit is due, and when support replies, it's helpful and professional. The delay is what ruins the good impression, unfortunately.

The installer worked on my other Win 10 machine, but the end result was unimpressive. The VPN client is but a tiny login window with the settings you don't want to be poking at – unless you are familiar with Cisco DTLS.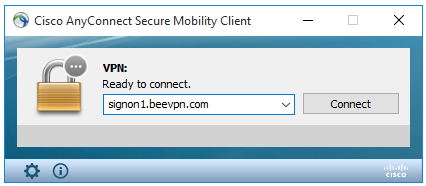 Your command center shows a map of your traffic that resembles a map of train routes. It is only from this weird-looking map that you can change your server, enable or disable the firewall, or enable or disable the SeeAllTV feature, which is supposed to unblock all the streaming goodies for you.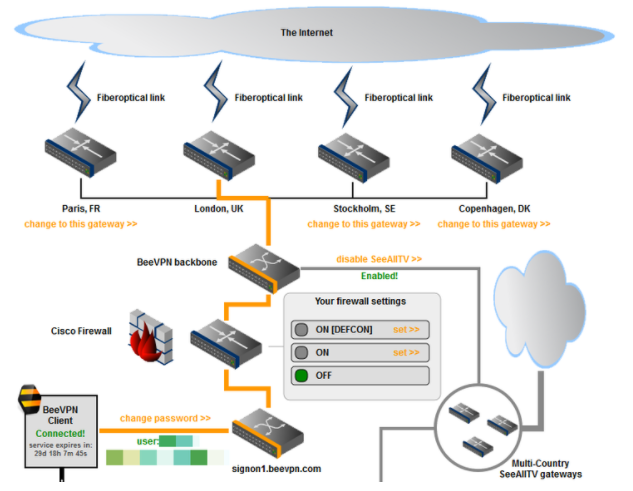 As if that UI wasn't hideous enough, BeeVPN adds a dozen of clicks to every server switch. To change a server, you need to disconnect, change the server from the command center in your browser, and then connect again, which means you need to log in again – submit your username and password to the Cisco's app.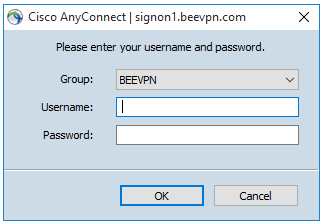 The setup and usability might have been "novel" back in 2012, but the industry has since moved on to more user-friendly and streamlined solutions. BeeVPN has not aged gracefully – it's neither user-friendly nor straightforward.There is no support for Android devices, so I was unable to test the service on mobile. The setup for iOS devices is manual, and don't forget you would need to buy a mobile add-on.
There is not much to discuss here other than support for P2P torrenting and a firewall. I couldn't find any information on concurrent connections.Its multi-country SeeAllTV should be able to get all streaming services unblocked. But the guide on how to set up the connection to unblock the streaming services looks like this:

Does this make it any clearer what the difference is between their respective setups? The repeated use of "simply" doesn't make it any simpler.
Tests
Just when I thought it couldn't get any worse, BeeVPN blew my security tests with fanfare, leaking absolutely everything. My DNS: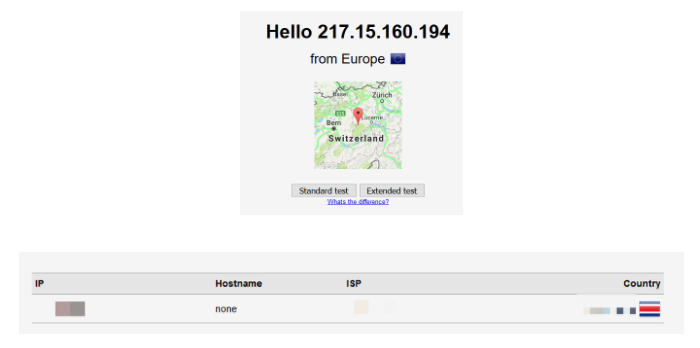 WebRTC:

and IPv6:

Even though my default speed wasn't top-notch, it came down to a crawl with BeeVPN:

London server:
BeeVPN didn't get me a pass to BBC iPlayer – it kept buffering forever: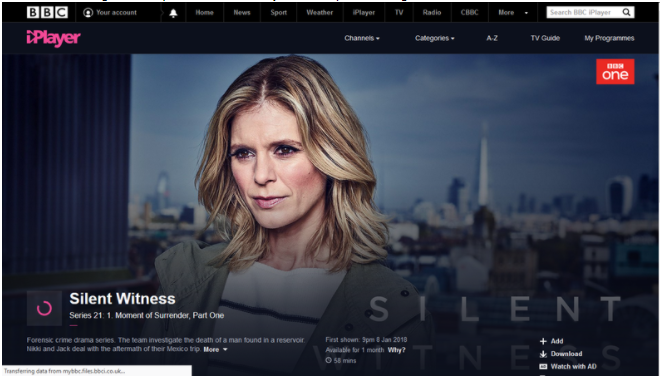 And it looks banned by Netflix until the end of times: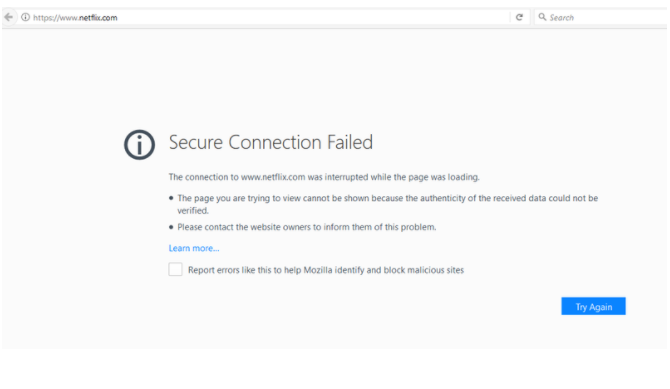 Privacy and Security
Since BeeVPN relies on Cisco DTLS, and provides 256-bit encryption with a UPD port, in theory, it should be better than OpenVPN. However, the glaring security leaks proved otherwise.Top that off with the fact that the company discloses absolutely nothing about their logging and data sharing policies. Nada. Zilch. There is no Privacy Policy or a ToS page, and a Google search brought up no results.
Final Thoughts
I can't recommend a VPN that keeps its ToS and Privacy Policy hidden; leaks DNS, WebRTC, and IPv6; and offers only four servers with questionable speeds. Add in the poor usability and a convoluted setup paired with a slow support and prices well-above average, and I don't even know why you would want to try it. Steer clear.