Anonymizer VPN Review – 2022
Last updated on September 9th, 2022
Anonymizer is a dinosaur of VPNs. It was founded in the US back in 1995 by Lance Cottrell, an astrophysicist and coder behind Mixmaster Protocol and Kosovo Privacy Project.
Why Choose Anonymizer VPN
Twenty years on the market sounds impressive. It gives the provider a flair of a weather-worn Viking that's been around since the beginning of the Internet time and has seen it all. Chances are, however, you've heard absolutely nothing about Anonymizer in those twenty years. Why? Probably because it's a niche provider that doesn't seek worldwide recognition for some reason.
Best VPN for
Netflix, Hulu, and streaming online
Torrenting and downloading
Security and privacy
Works on
Mac
Windows
Android
IOS
Linux
Routers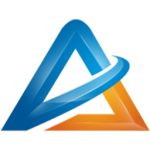 Pros:
14-day free trial
45-day money-back guarantee
Accepts cash
Good support
P2P allowed
Up to 5 simultaneous connections
Cross-platform
DNS leak protection
Cons:
Extremely slow
Two server locations
No love for streaming services
Logs session data
US-based, vulnerable to gag orders and subpoenas
No month-to-month subscriptions
Poor price-per-value ratio
Pricing and Plans
Anonymizer has one paid plan and a 14-day free no-credit-card trial. That's right, you can get your hands-on trial with Anonymizer or full 14 days without submitting your payment details, but you have to register an account and confirm your email. The process is instant, and you'll be up and running in a matter of a minute. The limitation is you can try one of their two server locations, which is Amsterdam.
On top of that, Anonymizer offers a mammoth-sized 45-day money-back guarantee on its paid plan. Except for it's a yearly subscription worth $80. A year is a long time. It means you'd be locked into the VPN for the whole 12 months, and the 45-day money-back guarantee doesn't quite make up for the lack of a monthly plan.
To sweeten the pill, Anonymizer accepts credit cards, checks, gift cards, and cash. No Bitcoin, but how often do you see VPNs accepting cash or offering a 45-day refund guarantee? Exactly.
The paid subscription grants you access to the two server locations, 24/7 US-based support and a cross-platform client along with up to five simultaneous connections, OpenVPN, and 256-bit AES encryption. In being completely honest, the offering is overpriced and extremely inflexible by modern standards.
Features
Anonymizer offers native software for Windows, Mac, Linux, iOS, and Android. On mobile, you need to install the OpenVPN Connect app first and then download Anonymizer's config file.
Once your registration is complete, you get a welcome email and your user's area, where you can download your software installer. My Windows installation went smooth. Kudos to Anonymizer for allowing a custom installation, where you can choose which components you want to be installed and where. For instance, you can choose to replace TAP adapters if you had them installed previously.
The program is intuitive and apt for both novice and advanced users. Everything is neatly compartmentalized in just one screen, where you can hide or display several self-descriptive options – Account, Settings, About, and Help– There is also an On/Off switch and your current – or masked IP address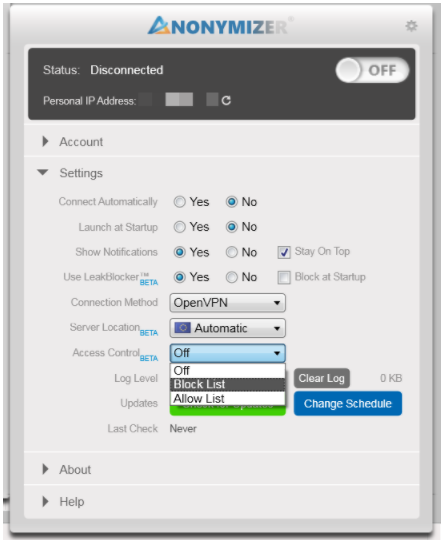 Here, you can switch a server, enable a DNS leak protection, check for app updates, and tweak the app's behavior at system boot and the placement of its floating notification bar.
The About menu is not what you'd expect it to be. Instead of displaying the app's current version, it lists your technical specs – your OS version, memory, and graphics card, last connected, last check, data sent and received, user level, service status and VPN status, server location, .NET CLR, and copyright information.
The Help menu provides quick access links to troubleshooting guides, FAQs, email support, knowledge base, and your account page. The app's UI and your customer dashboard on the website are well-organized, clean and stick to the point. Everything is easy to find. No fluff, no fuss.
Their 24/7 support is tickets-based but prompt.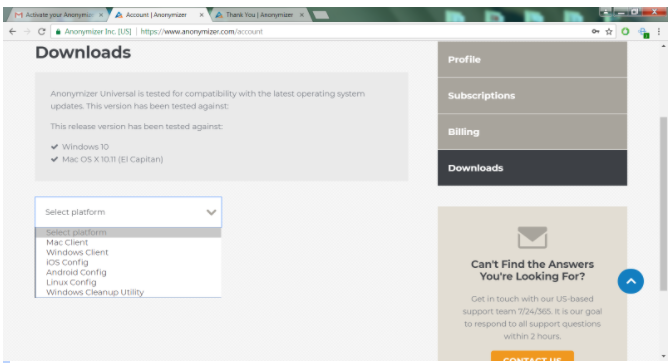 The VPN Settings are easy to sort out even if you're a beginner. You can set the app to connect automatically, launch at startup, display notifications, and enable a DNS leak protection (dubbed LeakBlocker).
The connection protocols include OpenVPN (TCP and UDP), and L2TP/IPSec. You can also set the detail level for your local logs, choose a server location, and black- or white-list apps, which is basically a firewall.
The paid version comes with a kill switch. P2P torrenting is explicitly allowed even though the provider has a clear stance against torrenting of copyrighted material. The good news is they don't keep usage logs. The bad news is they are based in the US and can be compelled to monitor some of it.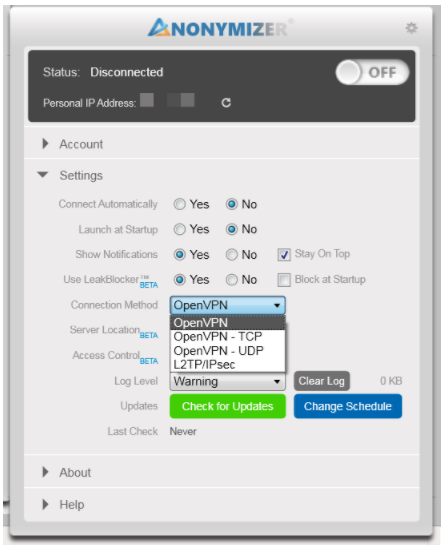 Tests
On the performance front, Anonymizer turns out to be a rather lackluster experience. Look at my speed without VPN:
And my speed with Anonymizer enabled:

While the Spanish connection was not affected at all:

This is nowhere near fast. It's downright frustrating.
I don't know what perks can remedy the drastic speed drops, but the absence of DNS, WebRTC, and IPv6 leaks is not that perk – it's just a must-have feature for a VPN: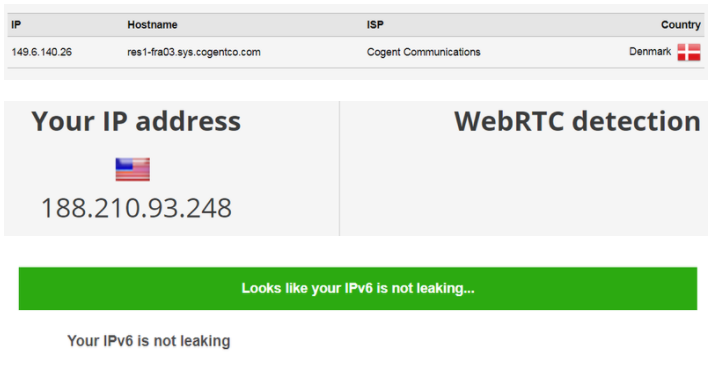 If you're hoping Anonymizer can help you solve some of your streaming woes, you're in for a disappointment. Forget about unblocking Netflix or BBC iPlayer.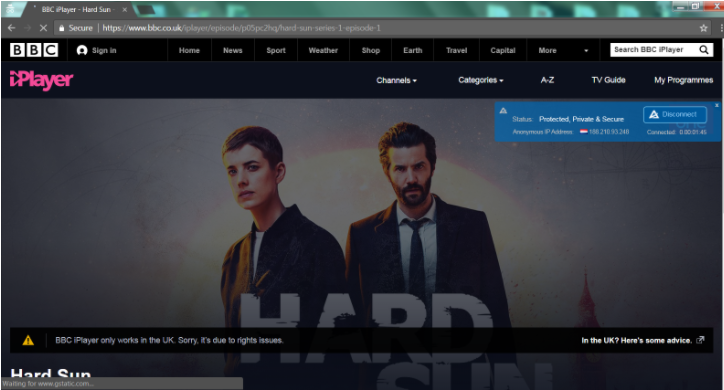 Privacy and Security
Anonymizer deploys OpenVPN and 256-bit AES encryption, which is the current standard for VPNs. That is good, but there is no information on the handshake key encryption, the authentication method, or the availability of the Perfect Forward Secrecy. Therefore, we have a problem. The thing about VPNs is if they don't disclose their tech specs, their security is not as strong as they want you to think.
Anonymizer is based in the U.S., so data retention laws and gag orders in, privacy out. In 2008, Anonymizer was allegedly acquired by Abraxas Corporation, if Wikipedia is to be trusted. Besides coming across as some Masonic organization due to its name, Abraxas Corporation, aka Cubic, does not mention acquiring Anonymizer. Nor is there a mention of Abraxas on the Anonymizer's website. Either Wikipedia got it wrong, or something really shady is going on because Abraxas deals in tech solutions for the US national security community: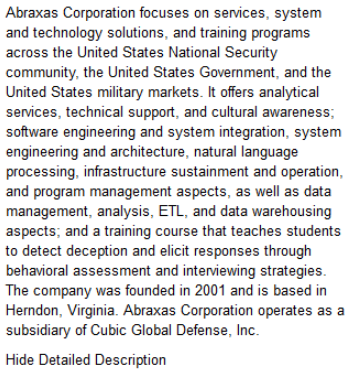 Irrespective of whether there is an affiliation or not, Anonymizer's ToS reveal this troubling clause about communications monitoring:
Anonymizer owns and runs its servers, which is good, but then it may collect your personally identifiable information:

The provider states it doesn't log usage, but logs session data and keeps it for 24 hours. The company will disclose your data to law enforcement: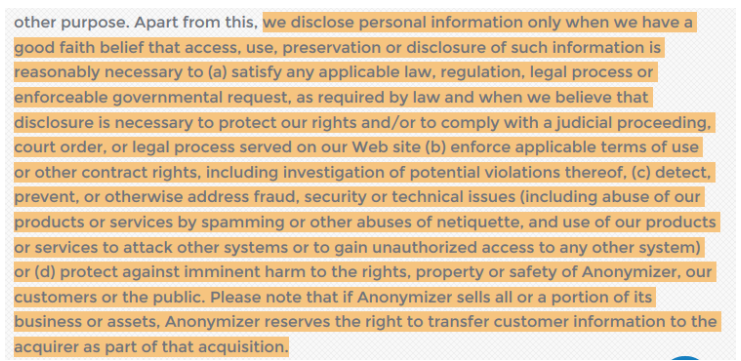 Final Thoughts
I can't find a single reason why you should try Anonymizer's free account, let alone subscribe for its yearly plan. Being a 20-year old veteran, the provider has its weathered charm, but its offering is hopelessly outdated, slow, and inflexible.