VPN4All Review (2023)
Last updated on January 7th, 2023
Their comprehensive offering consists of servers in 80 locations across the world, OpenVPN, and SSTP, as well as PPTP and IPSec, AES-256 encryption, and cross-platform software with advanced bells and whistles.
We might receive compensation from the companies whose products we review. The opinions here are our own.

Get VPN4All
What we like
Advanced features
Good security
Transparent privacy policy
No usage logs
Legal P2P allowed
Accepts Bitcoin
30-day money-back guarantee
Easy to use
What we don't like
Expensive
Bug-riddled checkout and account setup
No simultaneous connections are allowed
​100MB limit on refunds
Features
VPN4All is a Dutch provider operating since 2009, but the company has relocated to Seychelles at some point in the pursuit of a milder legal climate.
VPN4All offers native software for Windows, Mac, Linux, Android, iOS, Windows Phone, and BlackBerry. Color me impressed since few VPNs bother to cater to Windows Phone, let alone BlackBerry.
Immediately after the checkout, I received a welcome email containing my software license and the links to download the installer. Right after, I received another email with login details to my client area. My email was used as the username while the provider assigned me a password without bothering to disclose it to me. So I had to go through the password reset procedure to gain access to my client area. After the infuriating subscription debacle, the password reset nag just killed it. The subscription and initial login alone took me over an hour plus three days more waiting for a new credit card, which speaks volumes about how the provider "respects" its customers' time.
As far as VPN4All software is concerned, I had no issues installing and testing it aside from a couple of servers being down at the time. The UI is minimalist, good-looking, and easy-to-use. Choosing servers, protocols, and extra features is dead simple. The drop-down servers list tags P2P-ready servers while you can add a server to your shortcuts to connect faster.
The app also comes with a handy help section and a way to send a debug file to VPN4All support.
The web-based client area, on the other hand, contains your account information, your referral link, a breakdown of downloads, and guides. It is a well-organized area with several ways of contacting support. Although the website advertises a live chat option, it redirects to the ticketing system.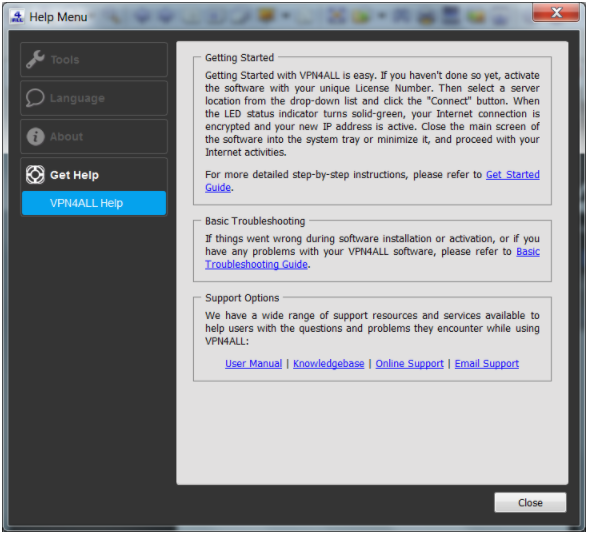 VPN4All strikes a good balance between usability and advanced functionality. Its minimalist interface packs a surprising load of features managing to explain each very well.
You can see which server is overloaded, or which supports P2P. You can switch protocols, and have your IPs change automatically, i.e. have the VPN assign you a new IP every X minutes.
Advanced settings pack a list of antimalware and identity protection extras, some of which require additional payment ($2.49) while others are available with your plan.
Whereas P2P of copyrighted content is not allowed, legal file-sharing is allowed on marked servers – none in the U.S. The good news is the provider is transparent about it.
You can also use VPN4All on as many devices as you need with just one license as long as you are not using more than one device at a time.
Pricing
VPN4All is a robust VPN apt for advanced users and novices alike, but the quality comes at a price. The "VPN4ALL-50 GB regular user" subscription will set you off $9.95 per month, $25 per three months, $48 per six months, and $84 per year. The plan comes with a 50 GB monthly bandwidth limit and software for Windows, Mac, and Linux. For an additional $2.49, you can have server-side antivirus, antimalware, antiphishing, and firewall protection.
The "VPN4ALL-Unlim movie junky" plan kicks in at $16.95 per month, $43 per three months, $81 per six months, and $142 per year and bundles unlimited bandwidth.
"VPN4ALL-Mobile on the go" costs $5.95 per month, $15 per three months, $28 per six months, and $49 a year, and comes with a 5 GB monthly bandwidth limit.
Regular and unlimited plans include DoubleVPN and SmartRouting features, as well as DPI protection. All plans also include 1 dedicated fixed IP on top of the unlimited dynamic IPs.
There is no free trial while the 30-day money-back guarantee is limited to 100MB usage.
The provider accepts gift cards, Bitcoin, PayPal, and credit cards, but my checkout was a nightmarish experience. First, the website refused to let me pay with PayPal, failing to let me fill in the appropriate field – which wasn't even an option.
Then the credit card payment didn't go through while the company tried to charge my account twice. Since I disputed one of the charges, my bank decided the suspicious activity was putting my account in danger, so they blocked the transactions, canceled my credit card, and re-issued a new one.
Tests
VPN4All performed well in my speed tests, with my initial speed without the VPN being quite modest:
With OpenVPN and AES-256 RSA 2048-bit encryption, VPN4All's U.S. server showed a minor drop in speed:
So did its UK server:
and its P2P-optimized Budapest server:
My security tests went smoothly – no DNS, WebRTC, or IPv6 leaks were detected:
Unfortunately, VPN4All only got me as far as HBO:
Both Netflix and BBC iPlayer refused to stream, no matter which protocol I used:
Privacy and security
On the security front, VPN4All delivers, support for OpenVPN, AES-256 RSA 2048-bit encryption, and DPI protection alongside the extra antivirus, antimalware, and antiphishing protection.
In terms of privacy, VPN4All has a not-so-short but sweet Privacy Policy that says the company is registered in the Seychelles, which is good as far as regulations go.
The provider logs bandwidth usage, which is understandable for a metered VPN. The company does not log your IP address, servers you access or IPs you are assigned, your Internet activities, emails, and such. The provider doesn't monitor or filter your usage. Nor does it share your information with third parties.
The company's website is a different story since it's controlled by the Netherlands-based office and this is where your user account is stored, complete with your personal and payment details as well as interactions with customer service. The provider goes into great detail to explain what information is stored, how it's protected, as well as how you can rectify or delete it.
I've found nothing to point a finger at in their ToS, either. It mostly explains the fair use policy and warns against torrenting pirated content.
Final thoughts
VPN4All is an impressive service with an intuitive client, advanced features, good speeds, and an overall smooth performance. The company's privacy policy makes a positive impression. On a side note, there is no free trial and it is rather expensive, especially if you need a VPN for desktop and mobile. VPN4All failed most of my streaming tests while the checkout was a debacle. In the end, you can't blame me for having mixed feelings about it.