SecurityKISS VPN Review (2023)
Last updated on January 7th, 2023
Their VPN supports OpenVPN, allows multiple simultaneous connections, and comes with an easy-to-use cross-platform client. The provider is also transparent about its logging policies.
We might receive compensation from the companies whose products we review. The opinions here are our own.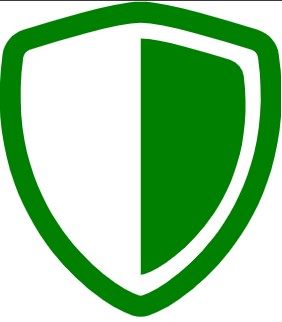 Get SecurityKISS VPN
What we like
Free plan
Cancel any time
Accepts Bitcoin
Good knowledge base, prompt support
Cross-platform, intuitive client
Up to 15 simultaneous connections in the Emerald plan (on PCs)
Firewall
Unblocks BBC iPlayer
What we don't like
Paid plans are on the expensive side
Basic client
Session logging
No Netflix
Features
SecurityKISS operates out of Dublin, Ireland, offering a wealth of VPN plans and a very capable free package.
You can set up SecurityKISS on any platform that supports OpenVPN, which means most popular platforms are covered (Mac, Windows, iOS, Android, and Linux).
Download the installer and you're up and running in a matter of seconds. Registration is non-existent.
The Windows client might not win a beauty contest but it is lightweight and straightforward. The main screen displays your monthly or daily data quota, consumed data, as well as your local and external IP, status, and the buttons to connect, disconnect, or pause your VPN.A small button depicting servers opens up a list of servers available to you based on your subscription. Here, you can change your protocol (TCP, UDP).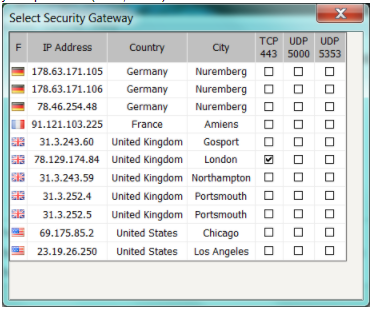 Their knowledge base is worth a praise – Troubleshooting Guides, Resources, Articles, and FAQs are concise, helpful, and cover most of the topics you need to know about the VPN. Customer service is available via email with a reasonable response rate. They also offer live chat that works on a 9-5 schedule.
Even though the SecurityKISS client does not look like much, it has a firewall named Exclusive Tunneling. The feature prevents your computer from sending any traffic outside of your encrypted VPN tunnel. With Exclusive Tunneling enabled, your normal connection will be blocked even when you disconnect from the VPN tunnel.
You can also have the app auto-connect on start and reconnect when the connection is lost.
Of note is the Pause button. While Disconnect turns down your connection, terminating your authentication with the server, Pause keeps the tunnel alive without redirecting your traffic to the VPN server. It just sits idle and when you need to reconnect, Pause allows for a faster on/off switching.
Pricing
Someone at SecurityKISS is really fond of green – their Green, Olivine, Malachite, Jadeite, and Emerald plans offer enough perks for everyone from the undemanding users to the VPN ninjas.
Green is their free offering and, perhaps, one of the few free VPNs that I would recommend to casual users. It doesn't require registration – download the app and get going. No username/password is required. The free account has a reasonable 300MB per day data limit and allows you to switch between up to 10 Open VPN and 10 L2TP servers in the USA, UK, France, and Germany. Your speeds won't be lightning-fast, but you can get most of your casual daily routines done.
Olivine kicks in at €2.99/mo, €7.99/3 months, €14.95/6 months, and €23.90/year. It affords you access to 40 OpenVPN and 39 L2TP servers in 11 countries and comes with a 20GB monthly data quota. It doesn't allow simultaneous connections, but the uncapped speed allows streaming and online gaming.
Malachite will set you off €3.99/mo, €10.99/3 months, €19.95/6 months, and €35.90/year, featuring 45 OpenVPN and 43 L2TP servers in 13 countries. The monthly data allowance is upped to 30GB, and you can set up your email clients to run through the VPN. Malachite still doesn't allow simultaneous connections, but there is no speed cap.
Jadeite costs €5.99/mo, €16.99/3 months, €29.95/6 months, and €53.90/year. It features 63 OpenVPN and 58 L2TP servers in 16 countries and offers 50GB of monthly data. It comes loaded with the perks of the above plans and allows up to 15 simultaneous connections per client ID, provided all of them connect to different servers.
Emerald is priced at €9.99/mo, €28.99/3 months, €49.95/6 months, and €89.90/year. 64 OpenVPN, 90 L2TP servers in 16 countries, no data limits, and up to 15 simultaneous connections make for a lucrative proposition for big families and even SMBs.You can pay with Bitcoin, PayPal, CashU, credit cards or make a wire transfer.
It is worth mentioning that SecurityKISS has a special cancellation clause. You can cancel at any point – the provider will calculate the remaining balance and issue a refund. This speaks volumes about the company's work ethic.
Tests
My default connection speed was far from stellar today, but SecurityKISS performed well considering I tried their free plan. Here is my speed before connecting to the VPN:
With VPN US server enabled:
and their UK server:

For some reason, www.dnsleaktest.com would not load DNS leak test results while I was connected to SecurityKISS. So I used a different test, and it revealed no leaks:
No WebRTC or IPv6 leaks have been detected either:
BBC iPlayer streaming worked just fine even on SecurityKISS's free account:
Netflix, predictably, put up a fight:
Privacy and security
SecurityKISS generates a unique pair of public and private keys for every downloaded installer. That way, each customer is assigned a unique identifier, and the provider – or anyone else for that matter – has no way of knowing your name. I don't remember reviewing another VPN offering the same approach to anonymizing users.
The VPN deploys OpenVPN backed by 128-bit Blowfish algorithm and 1024-bit RSA certificates while session keys are renegotiated on an hourly basis. Let's just say, you won't be evading targeted state surveillance but you can safely stream and browse with these specs.
The company keeps its legal documentation short and simple. Its ToS and Privacy Policy address the topics you want to know, bypassing the tedious legal jargon. The provider does not monitor or store connection logs but logs session data such as date, time, and duration of your VPN connection, the bandwidth consumed, and your IP address. These logs are deleted every 10 days.
The level of logging is predictable since most SecurityKISS subscriptions come with a data quota. The provider keeps no personal information about you other than your email if you provided it during checkout. If you pay with your credit card, then the provider keeps your name and address. But you can pay with Bitcoin and avoid disclosing your personal information.SecurityKISS states it doesn't share your details unless legally compelled. According to their Privacy Policy, it has never happened before. The company is based in Ireland, where the Communications Act of 2011- aka data retention – is currently under heavy criticism but nonetheless in force.
Notably, the provider prohibits access or transmission of any and all pornography.
I couldn't find any information on how the provider treats torrenting – they neither allow nor prohibit it officially.
Final thoughts
SecurityKISS may not offer advanced customization but its performance, speed, and security make it easy to recommend. Its free plan offers enough data and bandwidth for you to test the service if you're undecided. It's well worth a try.