Avira Phantom VPN Review (2023)
Last updated on January 7th, 2023
Their Phantom VPN – backed by 36 server locations across the globe – might be a feasible option for occasional and undemanding users, but if you're looking for something robust top to bottom you should read this review.
We might receive compensation from the companies whose products we review. The opinions here are our own.
What we like
Free
Easy to use
Unblocks some streaming services
What we don't like
Poor privacy and undisclosed level of security
Extensive logging
German and US jurisdiction
Paid plan is expensive
No customization
Intrusive software bundle
Features
Avira Phantom VPN is available for Windows, Mac, iOS, and Android. The good news is you can try the free VPN with no registration. The bad news is that Avira Phantom VPN comes bundled with the Avira installer and an Avira Safe Shopping browser extension, which installs itself without your permission. The Avira app manager is a gateway to Avira's load of digital downloads – software updater, antivirus, system speedup, password manager, et cetera. The whole thing is set up so you interact with it as much as possible. I envision some unaware users accidentally clicking "install" next to the available downloads.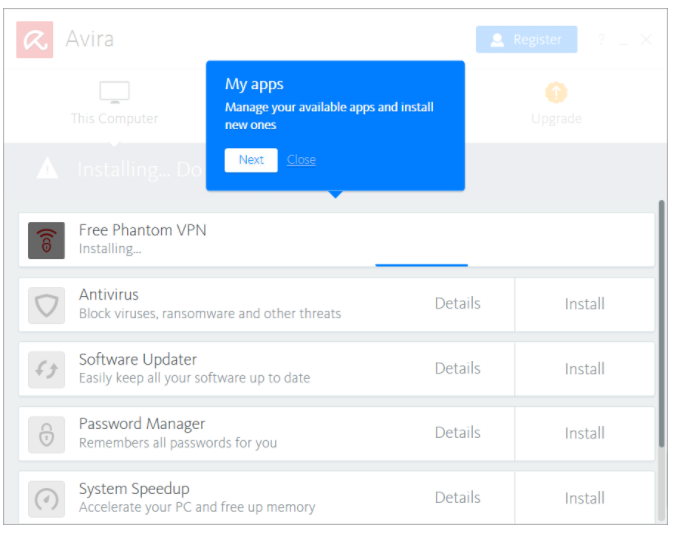 Moreover, the bundle grants itself permission to auto-start at system boot and keep running in the background even when you are not using any of Avira's products, which isn't getting any kudos from me. Considering that the bundle is a hog on system resources and requires additional user input to kill the task or disable the auto-start at system boot, Avira comes across as a sneaky pest. Having said that, Avira's extreme ease of use and lack of advanced settings make it a no-brainer choice for novice users. It is a hassle-free download and installation, while the interface makes switching a server a simple task. The sad thing about this simplicity is that non-savvy users might be unaware of Avira's background activity or its "send diagnostic data" toggle enabled by default.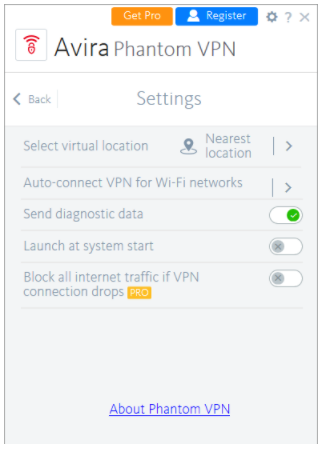 There are several tabs in the app – the main screen where you can connect to the nearest server, the tab with the list of available servers, and the settings tab. The latter lets you disable the "send diagnostic data" option and have the VPN connect at system boot. The kill switch is also there but only available to premium customers. Tech support is only available in the premium subscription, whereas free users can make do with a knowledge base. But chances are you won't face any difficulties because the app is simplistic.
There is no option to choose a protocol or encryption. In fact, there is no information on Avira's website as to what technology is being used other than that some encryption is at play at some point (see Privacy and Security below). The kill switch is available as a part of the premium subscription. Since there is a free version that does not require a subscription, you can use Avira VPN on all your devices until you exhaust the crippling 500 MB monthly data cap, or increase it by registering. The paid plan removes the cap. At its core, however, Avira Phantom VPN is a very modest and basic offering geared toward undemanding users not looking for advanced control.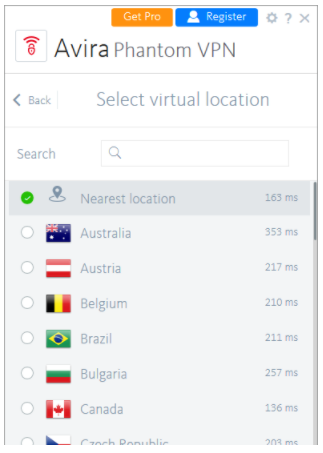 Pricing
Avira Phantom VPN comes in several flavors – two freebies and one paid tier. The first free plan is available with no registration but a 500 MB monthly data cap. Provided Avira VPN is available for several platforms, you can increase your cap by installing the apps on all your devices. The second free plan grants you 1 GB of monthly data if you register an account with the company. Phantom VPN Pro allows an unlimited number of devices and removes the monthly data cap. You can purchase Avira Phantom Pro for €7.95 a month (approximately $10/mo), or €59.95 a year. The monthly plan grants you a 30-day money-back guarantee, tech support, and better speeds than those of the free option.
The provider accepts credit cards and PayPal, and you need to submit the whole kit and caboodle of personal details when purchasing a subscription – name, address, phone number, you name it. Based on your location, you might be restricted to the credit card option only. There is no option to pay with crypto.
Tests
I ran Avira Phantom VPN free through speed and security checks, and found nothing to point a finger at – it didn't leak my DNS, WebRTC, or IPv6: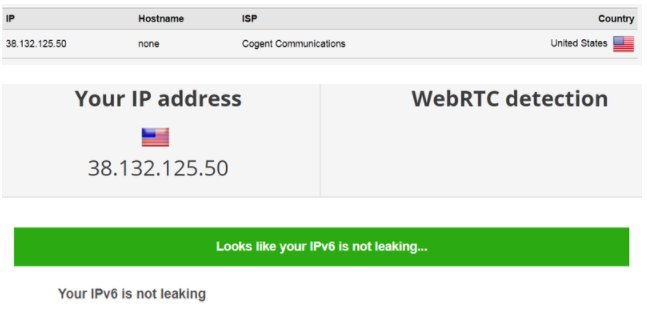 My speed without a VPN was average:

Understandably, the speed wasn't stellar in a free plan, but it wasn't the worst I've seen. This is my speed result for the nearest location, which was in California:

And here is the speed reading for their Miami server:

and the UK server:

Despite the fact that the speeds allowed streaming, and no DNS leak was detected, Avira Phantom VPN didn't bypass Netflix geo-blocks: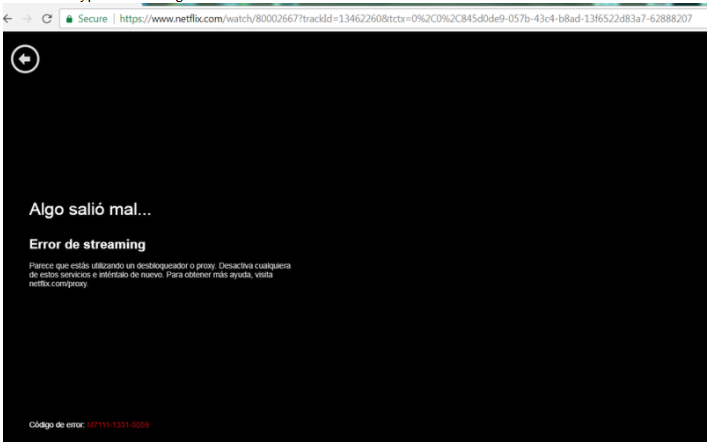 HBO was more permissive: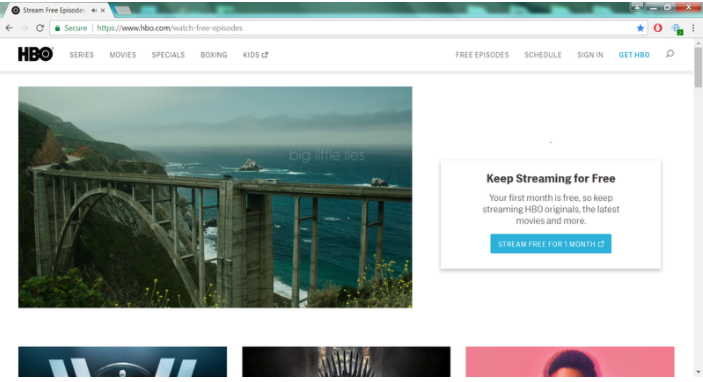 BBC iPlayer took ages to load the first time I tried, but loaded a new episode of Hard Sun without a hiccup the next time:
Privacy and security
I wouldn't recommend Avira Phantom VPN – free or paid – to privacy wonks. It's a German company, and Germany is one of the Five Eyes allies, with some of the most privacy-offensive laws in the European Union. Some of its operations are based in the US, so you're in for a toxic mix of laws and jurisdictions. The VPN comes bundled with a super-intrusive Avira apps manager and a Safe Shopping browser extension and is set to auto-start at system boot and run in the background. None of that is conducive to your privacy. Top it off with the fact that the VPN default settings come with the enabled option to send diagnostic data to Avira, and you get the classic modus operandi of a free VPN that monetizes user data.
The legal documents for Avira Phantom VPN consist of a separate file for the VPN itself, Avira EULA, ToS, and Privacy Policy. You might want to gloss over their DMCA Policy, too. Combined, Avira's legalese amounts to a hefty read. You are not advised to engage in copyright-infringing activities. When you use the free VPN, Avira logs your IP to keep track of your data cap. When you subscribe to a paid version, Avira keeps your email associated with your address, name, phone number, and your Avira account information. The following clause suggests extensive surveillance capabilities:

Final thoughts
Avira Phantom VPN could be a viable option for occasional VPN users looking to stream BBC iPlayer when traveling. Unfortunately, it bundles many unwanted features that don't quite fit into a profile of a privacy-protecting product.