Keenow VPN Review (2023)
Last updated on January 7th, 2023
Keenow is primarily geared toward streaming while its VPN seems like a backup byproduct. But it turned out to be a rather capable and mostly secure solution. Long story short, if you're after privacy and security, get yourself a privacy-focused VPN. If you are after streaming and occasional security – Keenow is a feasible solution.
We might receive compensation from the companies whose products we review. The opinions here are our own.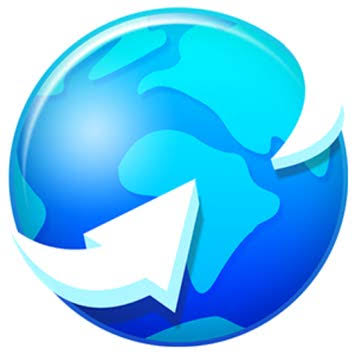 Get Keenow VPN
What we like
Robust security specs
Easy-to-use yet fully-featured Windows client
Kill switch
Virtual Router WiFi Hotspot
Cross-platform
P2P
SmartDNS-only service has a free plan
Accepts Bitcoin
What we don't like
Connection logs
Based in Israel
Uneven streaming performance
Features
Keenow's key selling point is SmartDNS for bypassing geo-blocks of streaming services. Their VPN offer comes as an additional feature in premium subscriptions.
Keenow is available as a native desktop app for Windows, Mac, iOS, Android, Android TV, and Amazon Fire TV. The provider's DNS setup guides also allow you to configure your device's DNS manually, broadening the list of covered operating systems to include Chrome OS, PlayStation 3 and 4, Xbox One, routers, Roku, Android, iOS, and smart TVs.Advanced users can set up the open-source OpenVPN GUI in combination with the Keenow OVPN configuration files. Note: your OpenVPN username/password is different from the combo you use for the Keenow desktop app and the provider sends you detailed instructions on where to find them.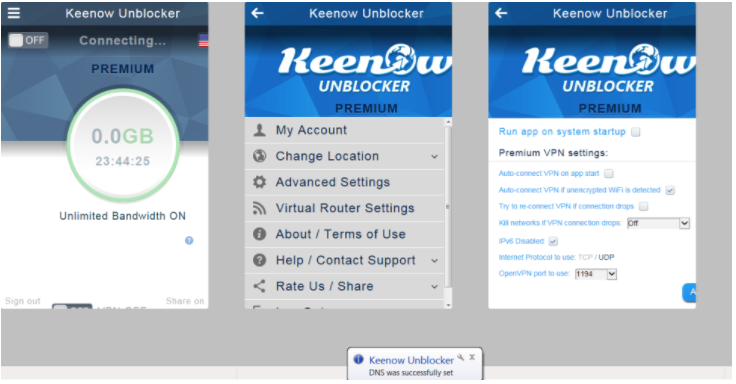 The OVPN files are conveniently listed under Downloads and categorized by the operating system and port (UDP, TCP). I like how the downloads list explains the difference between the ports in layman's terms – this one is fast, and that one is the most secure. There are many ways you can get help here. A quick troubleshoot bot will check your connection status and suggest possible fixes. You also have a comprehensive FAQ library and a ticketing system. I had a brief interaction with their support. The response rate was about one hour, support – was helpful and professional. One thing I loathe about SmartDNS services is most of them require manual setup. Keenow eliminates that hassle by bundling the DNS and VPN features in one neat and straightforward app.
It may not be a beauty queen and it experienced an odd UI scaling glitch on my laptop, but it did its job. The app lets you enable and disable your DNS region without having to go through the multiple hurdles you usually go through with many other SmartDNS providers. It also offers a VPN toggle that adds a level of privacy and security to your connection. Switching servers is easy with the drop-down list. P2P-optimized servers are tagged, so you never have issues selecting an adequate connection.
Keenow's desktop app might not look like much, but it bundles a few nifty perks like a quick way to flush DNS cache for your device.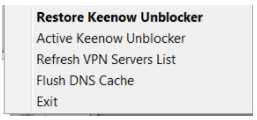 I am surprised at how thorough Keenow's client is for a service focusing on SmartDNS. One particular feature is a total knockout and something I've never seen with any other VPN. Case in point – Virtual Router. Virtual Router allows you to share your Keenow connection with your other devices, and it's extremely easy to use – toggle on and connect to your Keenow Unblocker WiFi hotspot using the password listed in the Virtual Router tab.
The app's advanced settings allow you to run the app on system startup, auto-connect VPN on app start, or if unencrypted WiFi is detected. You can also set it to re-connect VPN if the connection drops. There's also a kill switch that shuts down your network access if the VPN connection drops. Here, you can allow the app to disable IPv6 to prevent potential privacy leaks, as well as change protocol (TCP, UDP) and set the OpenVPN port.P2P is allowed on some U.S. and Dutch servers.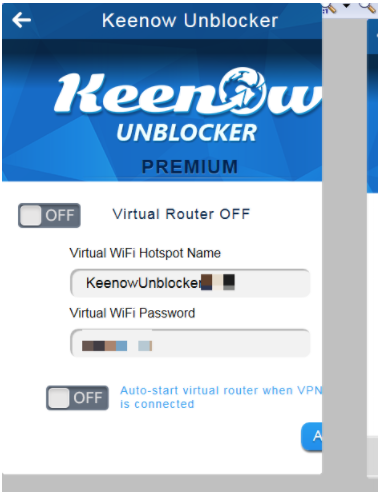 Pricing
A month-to-month subscription will set you off $9.95. You get 7 days to make up your mind and claim a refund in case you're not happy with the service.
A 6-month subscription costs $41.70 with a 15-day money-back guarantee.
A 12 months plan is priced at $69.50 and bundles a 30-day money-back guarantee. But a closer look at the provider's Terms reveals the refunds, if any, are at the company's sole, exclusive discretion.
You can pay via PayPal directly, credit cards via Paymentwall, and Bitcoin via CoinPayments.
Tests
Keenow did not quite impress during my synthetic speed tests. My connection speed before VPN was around 40Mbps:

Here is how the Keenow U.S. connection performed:

Their UK connection:

The speed results of the Keenow desktop app and OpenVPN GUI with Keenow's config files did not differ. These results aren't top-notch, but you can work with the speeds. The VPN did not leak my DNS, WebRTC, or IPv6. The latter was disabled by the app but the DNS tests would constantly show French servers for US connections: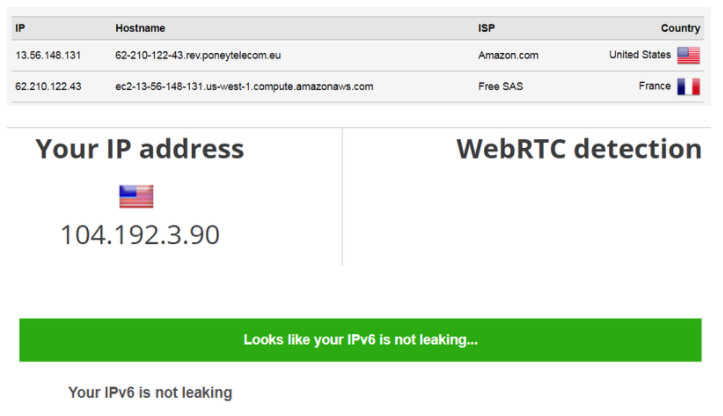 Keenow has an opus of a guide on how to unblock Netflix laid out in a funny way – here's the fix, but if it didn't work, try this other fix. At the same time, there is a notification in the members' area about the current Netflix issues, so I wasn't overly surprised I couldn't get it to work.HBO had no problem streaming: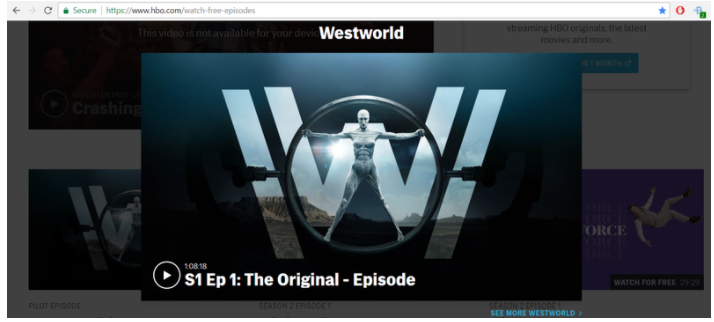 What did come as a surprise was the buffering issue with BBC iPlayer. I wasn't blocked per se, and the player recognized me as coming from the UK. The speeds also allowed for streaming, but the buffering would never come to a fruitful end:
Privacy and security
Keenow is headquartered in Israel and is reported as an observer for the Five Eyes mass surveillance alliance and is known to engage in wide-scale online surveillance. The provider's ToS and Privacy Policy leave no room for doubts – privacy is not its selling point. Keenow logs extensive connection data, including bandwidth, timestamps, and your IP address: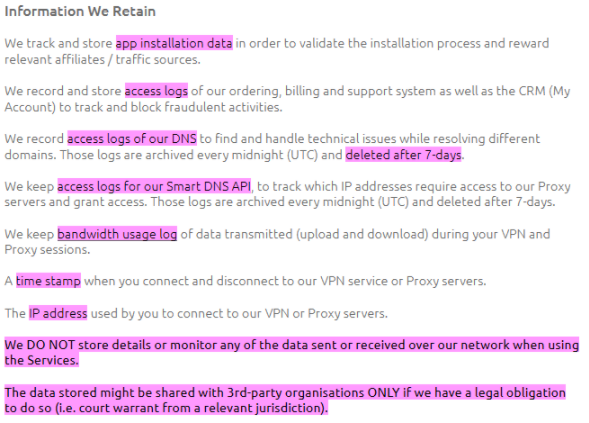 For its VPN, Keenow uses the strongest available protocol OpenVPN with TCP and UDP ports, with AES-256-CBC cipher and auth SHA512 for HMAC message authentication and the 4096-bit DH key backed by the Perfect Forward Secrecy. These are excellent security specs, and I appreciate how the provider doesn't even offer less secure protocols.
Final thoughts
Keenow is a viable option if streaming is your priority, and you can easily test its SmartDNS performance with their free plan. Its VPN is surprisingly robust, too. You won't be sending state secrets to Glenn Greenwald through Keenow, but it's good for average uses if you're not engaging in any activity that could get you in trouble with the Eyes-alliance authorities.